Former Macon mayor dies at 90 years old.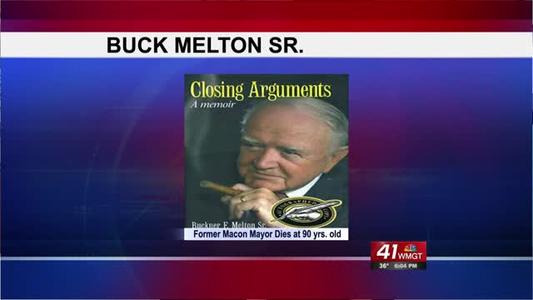 Former Macon mayor, Buck Melton Sr. died Wednesday, and as current Macon Mayor Robert Reichert says, Melton Sr. paved the way for the city's success.
Melton Sr. served as Macon's mayor from 1975-1979.
Buck Melton Jr. says his father was an outstanding public servant, father and husband to his wife Tommie Melton.
Melton Jr. says the 90-year-old writer, and politician for many years and the founder of Sell and Melton law firm died from 'long-term illness and old age.' He adds after several heart problems, a bypass and a stroke over the years, Melton's health started to decline.
He served as city attorney back in the 1960's, and ran for the Governor of Georgia in 1982.
"He was tremendous at getting people of different political views to find common ground," says Melton Jr.
Macon's current mayor, Robert Reichert says there is no one who could fill the shoes of Melton Sr., and take on as many community service roles like he did.
"What a wonderful, kind and fun person he was to be around," Reichert says," Buck-and his laugh-his ability to tell stories and his ability to pull people together for a common purpose…he will be missed."
Visitation is tomorrow at Hart's Mortuary and Crematory at the Cupola at 4 p.m. to 6 p.m. on 6324 Peake Road. The funeral is on Saturday at Saint Paul Episcopal Church at 11:30 a.m. on 753 College Street in Macon.
Melton Jr. says the burial will be held at Rose Hill Cemetery.