Fire danger remains high Wednesday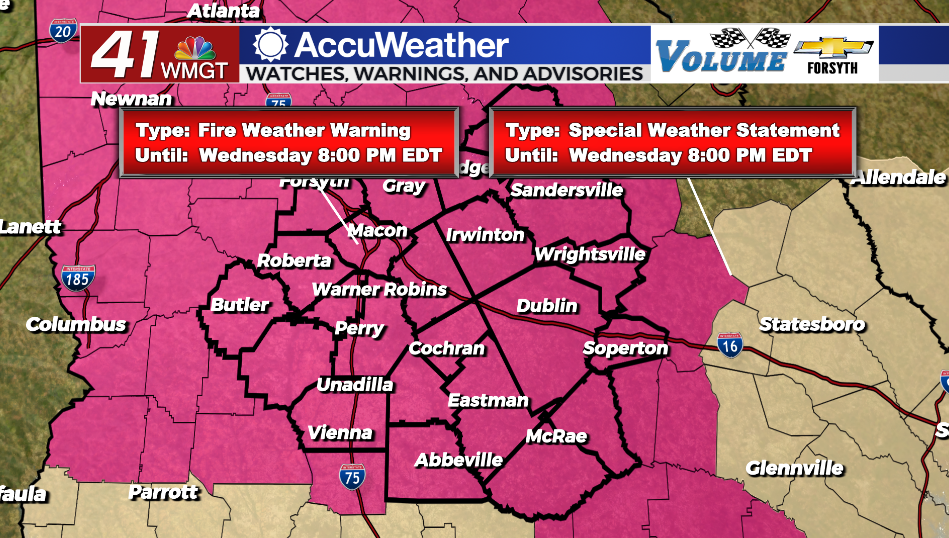 MACON, Georgia (41NBC/WMGT) – Strong winds and low humidity are leading to another day of high fire danger around Middle Georgia.
Today

Sunny skies and strong winds remain with Middle Georgia again Wednesday. The wind, however, has shifted more to the northwest, leading to even lower relative humidity this afternoon as well as high temperatures that are a degree or two cooler than yesterday's. Winds will not be as strong, however, only gusting to about 25-30 mph (sustained 10-17 mph). A Red Flag Warning is once again in effect for the whole region until 8:00 PM EDT tonight.
The winds will back off tonight as they shift more towards the north, calming to around 5 mph. Due to the direction change and clear skies overhead, however, low temperatures will reach their valley for the week in the low to mid 40s. Wind chills could be in the lower 40s (potentially one or two spots in the upper 30s).
Tomorrow

Cloud cover finally begins to enter the region as a couple of cirrus clouds move through during the afternoon. Temperatures will peak in the upper 70s across Middle Georgia with west-northwest winds coming in at around 5 mph.
More clouds will thicken overnight, especially after midnight and leading up to Friday morning. Early on Middle Georgians should have a decent view of the Full Flower Moon before the clouds arrive. Temperatures will bottom out in the low to mid 50s with light and variable winds.
Friday and beyond

Temperatures along with cloud cover and humidity will continue to increase come Friday and into the weekend. Rain chances will also return in the form of a couple of isolated showers and storms late Friday afternoon. These will be possible again over the weekend as temperatures reach into the mid 80s under partly to mostly cloudy skies. Temperatures will continue to climb into next week as the jet stream retreats further north and a summertime pattern takes over. Some spots in Middle Georgia could see highs in the low 90s by next Tuesday.
Follow Meteorologist Aaron Lowery on Facebook (Aaron Lowery 41NBC) and Twitter (@ALowWX) for weather updates throughout the day. Also, you can watch his forecasts Monday through Friday on 41NBC News at Daybreak (5-7 a.m.) and 41Today (11 a.m).