Fire chief's son finds home on golf course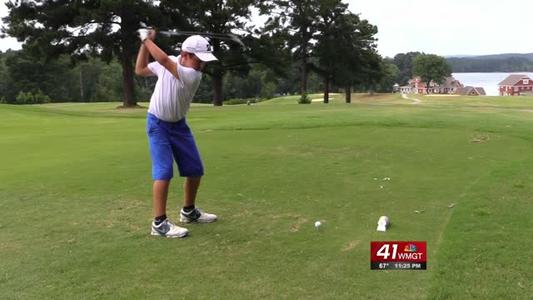 MILLEDGEVILLE, Georgia (41NBC/WMGT) – 12-year-old Marcus Reynolds has what it takes to be the best.
"I've been teaching golf for over 30 years," says David Franklin, Head Golf Professional at Milledgeville Country Club. "And it's not often a young man comes along with that kind of talent."
Reynolds doesn't come from a family of golfers. His dad, Troy Reynolds, is the Baldwin County fire chief. The only golfing he'd done before his son took an interest in the sport was at charity events with the fire department.
"I don't consider myself a golfer," Chief Reynolds says. "I can't break 100."
While being fire chief is certainly admirable, Marcus is taking his own path.
"It's really kind of a way to get away from the world for me," Marcus says.
His dad has backed him 100 percent, watching him play on the US Kids Tour in Atlanta and even taking him to Savannah last month for the GSGA state tournament.
"On the way down, he was telling me he was bringing this home," says Chief Reynolds. "In the back of my mind, I said, 'Yeah, he'll finish in the top five.' But he had it in his mind to bring it home, and he did it."
"Marcus is always practicing," Franklin says. "He's always working on his game. He's always asking questions about clubs, game improvement, stuff he can do on the golf course to make his game better."
"I've always understood that nothing is handed to you," Marcus says. "You have to work for it. So, I've always had dedication about this game."
With a state title to his name, Marcus shows no signs of slowing down.
"At first I didn't know if it was a fad or not," Chief Reynolds says. But it's not a fad I don't believe, because he's still going. He'll just take it wherever he wants to take it."
Marcus plans to golf at the University of Georgia before completing the professional grand slam. If you don't know what the grand slam is in golf, it's just winning every major tournament. That's something only six golfers have done before.