Farewell Tour: Reflecting on Russ Brown's impact on Middle Georgia radio
After bringing laughter and sports banter to Middle Georgia radio for more than 16 years, Russ Brown will say goodbye to his listeners this week.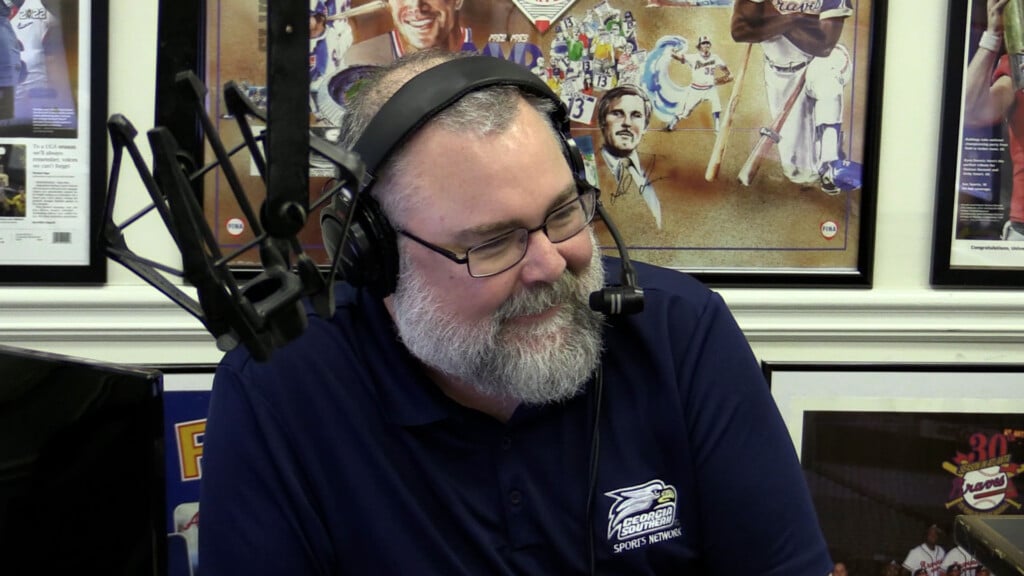 MACON, Georgia (41NBC/WMGT) – After bringing laughter and sports banter to Middle Georgia radio for more than 16 years, sports talk radio co-host Russ Brown is saying goodbye to his listeners this week.
Known for his infectious laughter and connection with his audience, Brown has made an unforgettable impact on the region's airwaves.
The Milledgeville native, whose distinct laugh has been part of the sound of local sports talk radio in this area for more than a decade, has spent a significant part of his career with his co-host and boss Bill Shanks on The Bill Shanks Show. The duo has entertained listeners with their unique takes on Georgia sports, often finishing each other's sentences like brothers.
"So let's see, we started out at 105.5 The Fan, AM 1670, we went there next, and then we came to 93.1 FM, but it was with a different group, and now we're kind of doing our own thing independently," Brown said.
Shanks says Brown has been a vital part of the show and their shared laughter often amplified the fun.
"He's been my other half," he said. "I think people thought I was more funny because the way he was laughing all the time, you know? He used to be even louder with that laugh, but they hear us have fun, and when you hear people having fun on radio or television, they're gonna have fun."
Brown agreed.
"What we're doing is fun," he said. "We're getting to go talk about sports every day. We both grew up loving to play sports and watch sports, and now we get to talk about sports for a living, so yeah, I just feel like, if we're not having a good time, what's the point of doing it?"
Since becoming owner of the Super Stations, a radio network that spans from Macon to Savannah to Tifton, Shanks has often depended on Brown to hold down the fort while tending to business. Brown has also been the longtime co-host of another local show on the stations, The Midday Sports Zone.
"He's done everything," Shanks said. "He's been there where if I need to be off or whatever, I don't have to worry about anything. He's just been there, and there's a comfort level that I've had for a long time that everything was going to be taken care of because he was there."
Brown's announcement last week that he would be leaving for a new opportunity drew bittersweet reaction from listeners.
"I can tell people are gonna miss me, but at the same time they're happy for me," Brown said. "They're happy for the family, and it's just been all positive so far, which has been really cool."
Brown, who has also served on the Georgia Southern football radio broadcasts for more than a decade, says he can't say where he's going just yet.
His longtime partner says there aren't enough words to thank him for what he's meant to him personally and professionally.
"Just that partnership, you just don't find that very often," Shanks said. "I'll probably never find that again. Regis had Kathie Lee, Johnny Carson had Doc and Ed, and I've had Russ. He's been great, and I'm going to miss him terribly."
Those who wish to say goodbye to Russ Brown can meet him at McCall's Tastes to Remember in Warner Robins for The Midday Sports Zone from 11 a.m. to 1 p.m. on Thursday. He and Bill will then broadcast The Bill Shanks Show from The Steakhouse Restaurant in Hawkinsville from 3-6 p.m. on Thursday.
On Friday, for their final show together, Brown and Shanks will be at the Wild Wing Cafe at the Shoppes at River Crossing in north Macon.
You can listen to the Super Stations on 93.1 FM in Macon and 98.3 FM in Warner Robins.
Shanks assures listeners Georgia sports talk radio will continue on his stations.