Early Season Snowfall Possible in Middle Georgia
MACON, Georgia (41NBC/WMGT) – Early season snowfall is possible in Middle Georgia this week, but first comes the continuation of rain.
A stream of moisture continues to surge through the southeast after a cold front moved through Tuesday afternoon. That front has since stalled out over central Florida as a secondary front forms to the north. Therefore, the only path the rain can take is through central Alabama, Georgia and South Carolina.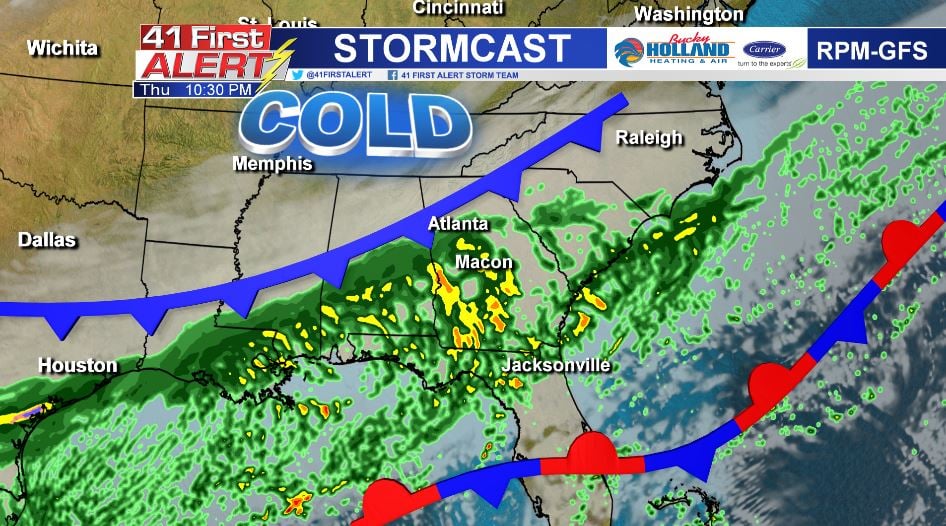 Behind the cold front lies drier, colder air. As the front moves into the southeast, it will clip some of the moisture allowing for rain to transition to snow. However, there are still a lot of inconsistencies between the models as to when the transition occurs and where.
As of Thursday morning, one model – RPM – was showing some rain/snow mix as early as Friday afternoon in the northern part of Middle Georgia.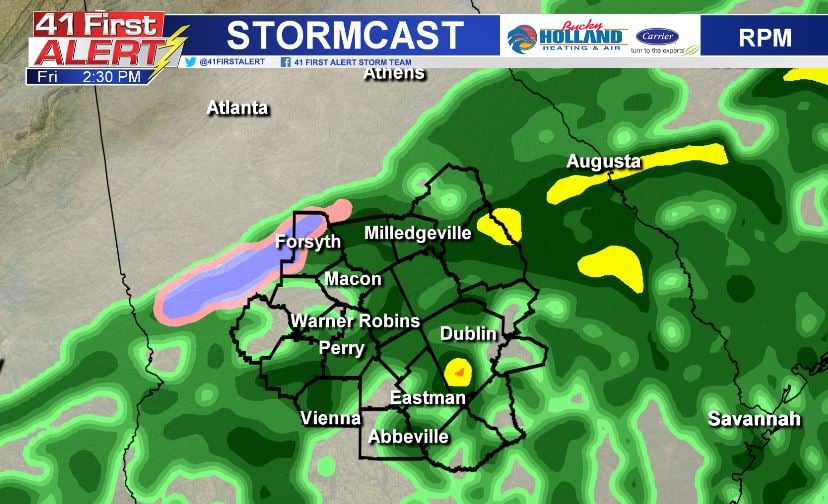 Meanwhile, another model – GFS – was showing rain across Middle Georgia Friday afternoon and the mix of snow farther north into metro-Atlanta.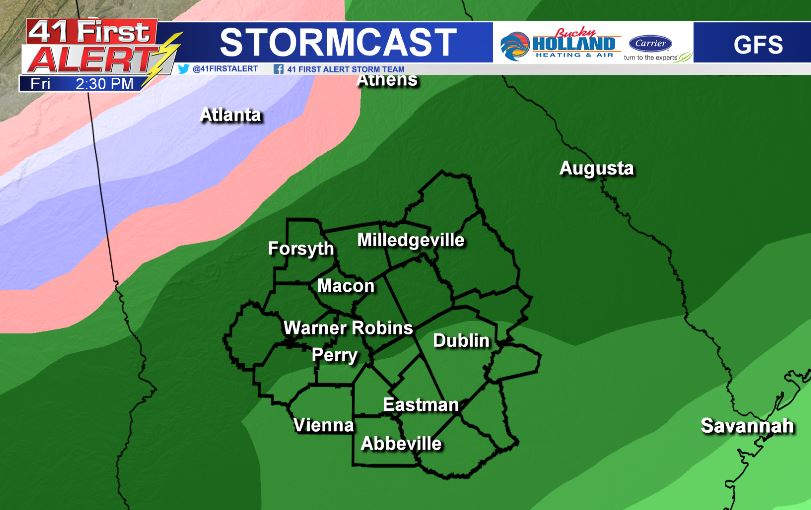 The GFS showed the transition of rain to snow occurring in Middle Georgia Saturday morning.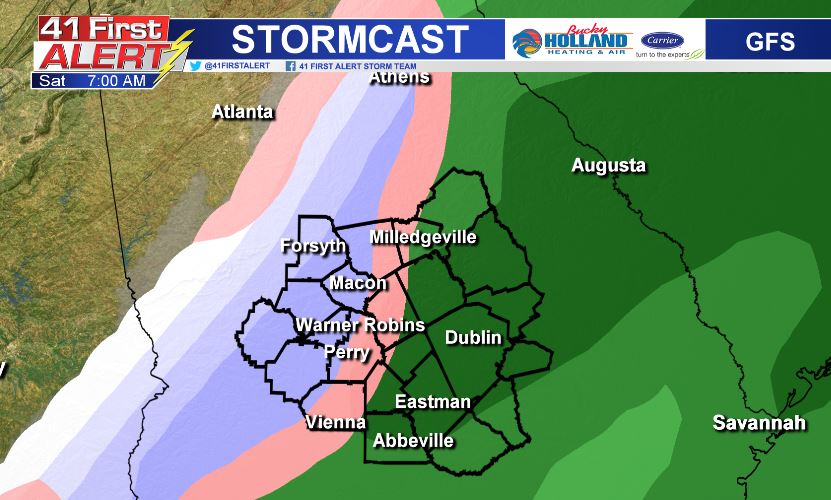 At the same time, the European model showed the rain/snow mix in west central Georgia Saturday morning.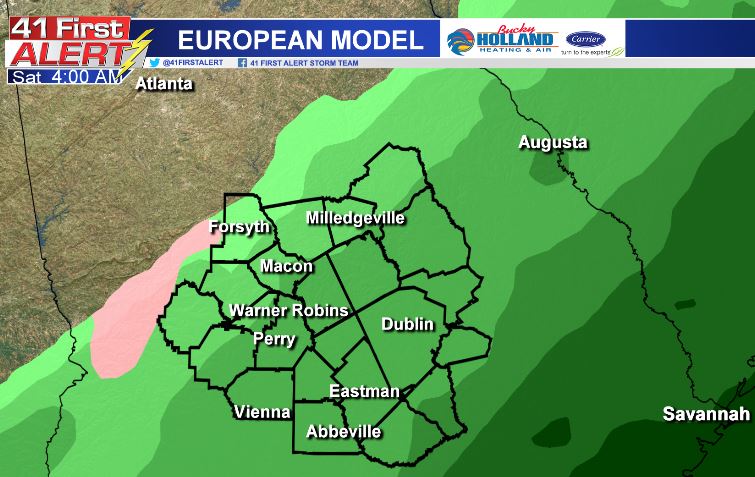 This forecast is a tough one to put together. It is very dependent on when the colder air moves into Middle Georgia and how much moisture is left in the atmosphere to create the change over from rain to snow.
The highest snowfall totals are most likely to occur around metro-Atlanta and just south of the city. Northern towns in Middle Georgia could pick up a quarter of an inch of snow on wet and elevated surfaces.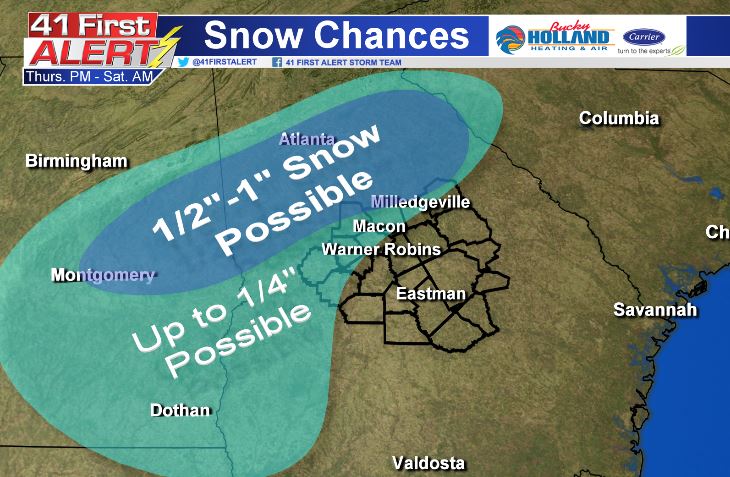 Locations as far south as Dublin could see some flurries, though only a dusting is possible. Any moisture leftover on the roadways early Saturday morning could also lead to the formation of black ice, which would create hazardous travel conditions.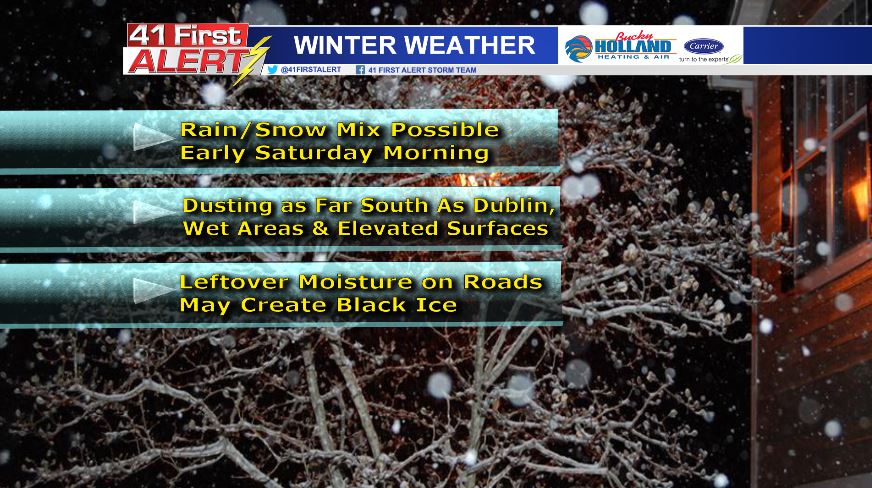 Any snow that we do see won't last long. Temperatures are expected to reach the mid-40's Saturday afternoon.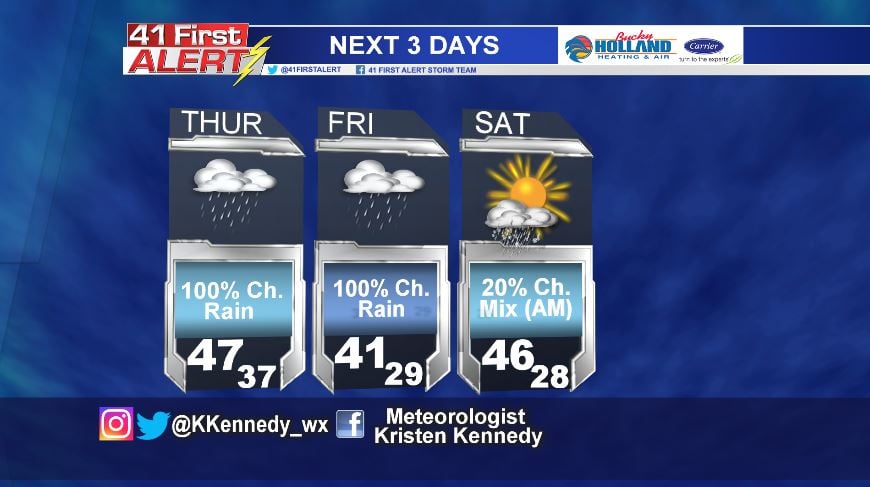 Once again, this forecast is likely to change. Stay with 41NBC and the 41First Alert Storm Team for the very latest.