Dry weather and a warming trend heading into the weekend
MACON, Georgia (41NBC/WMGT) – The remainder of the work week and the first half of the weekend is looking quite nice with sunshine and mostly dry weather in the forecast.
A ridge of high pressure will set up across the southeast Thursday. This system will allow cool and dry air to filter in across the area, keeping temperatures in the 50's and clouds at minimal coverage.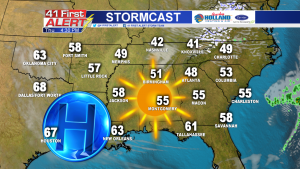 The jet stream has dipped into the deep south, allowing cold air to flow in from the northwest. Temperatures will be close to or below freezing in Middle Georgia Friday morning, though a warm up is on the way. The high over the Gulf Coast will bring in a southern wind, allowing warm air to flow over the southeast.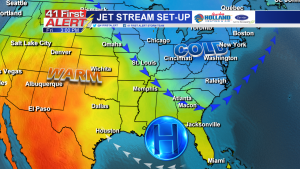 Temperatures will trend upwards into the 60's heading into the weekend.
On Sunday, another frontal system will move into Middle Georgia. The 41First Alert Storm Team will be monitoring this system closely as there is a chance for severe storms including the potential for tornadoes.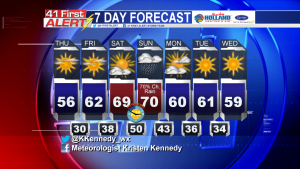 Connect with Meteorologist Kristen Kennedy on Facebook and Twitter for weather updates throughout the day. You can also watch her forecasts Monday through Friday on 41NBC News at Daybreak (5-7 a.m.) and 41Today (11 a.m.).