Cooler Temperatures Are Here to Stay
MACON, Georgia. (41NBC/WMGT) – Below average temperatures are here to stay in Middle Georgia.
Today.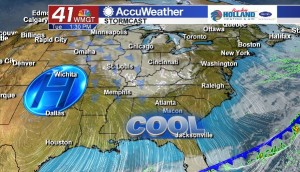 With an area of high pressure centered across the plains states we will continue to feel a breeze from the northwest this afternoon. Sustained winds will be coming in at five to ten miles per hour while gusts will reach fifteen miles per hour in the afternoon. Overall it is going to be a beautiful Middle Georgia fall afternoon with a sunny sky and temperatures in the mid-to-upper 50's. Freezing temperatures return tonight and when you factor in a light breeze it is going to feel like the mid-to-upper 20's across our area when you wake up on your Wednesday morning. Make sure you are taking the necessary steps to prepare for the colder temperatures. Some suggestions include:
Bring your pets inside! If you wouldn't like being outside in the cold temperatures they probably don't either.
Allow faucets to drip to reduce chance of freezing pipes.
Cover outdoor water spigot's.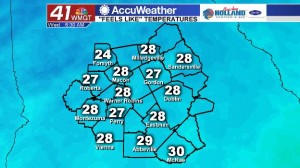 Tomorrow.
Wednesday will be much like Tuesday, but the main difference will be the even cooler afternoon temperatures and less of a northwest breeze. Under a sunny sky temperatures will struggle to get into the middle 50's. Overnight low temperatures will dip into the upper 20's.
Extended.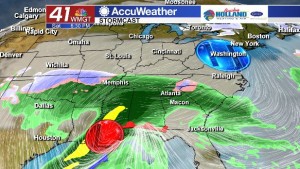 The rest of the work week looks dry with below average temperatures. The below average temperatures continue into the weekend, but we also usher in rain to Middle Georgia. An area of low pressure is going to make an across country trip from California to the New England region bringing rain to Middle Georgia on Saturday, Sunday, and even into Monday. It is going to be a cold and wet weekend as afternoon temperatures struggle to make it out of the 40's.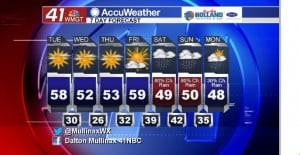 Connect with Meteorologist Dalton Mullinax on Facebook (Dalton Mullinax 41NBC) and Twitter (@MullinaxWX) for weather updates throughout the day. You can also watch his forecasts Monday through Friday on 41NBC News at Daybreak (5-7 a.m.) and 41Today (11 a.m.).