Cool, sunny, and breezy Tuesday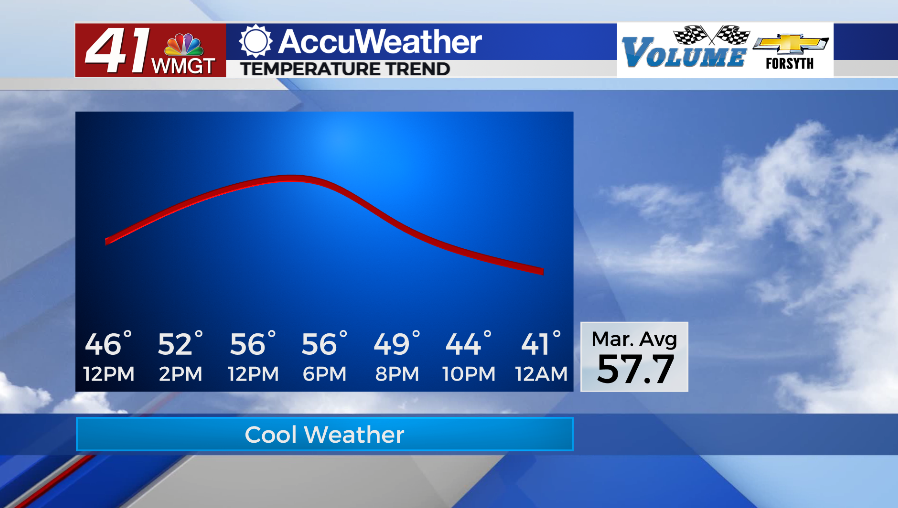 MACON, Georgia (41NBC/WMGT) – Cooler temperatures are expected Tuesday afternoon despite the continuing sunshine over Middle Georgia.
Today

Clear skies will stick with Middle Georgia all day. Temperatures will peak in the mid to upper 50s with wind chills likely hanging in the low to mid 50s. Sustained winds from the north-northwest will range from 5-15 mph with gusts pushing 25 mph. Given dewpoints that will remain under 23 degrees this afternoon and the gusty conditions, the National Weather Service has issued a Special Weather Statement in relation to fire weather until 3:30 PM.
Tonight skies will remain mostly clear as temperatures plummet down to and below freezing. A couple of cirrus clouds may pass through ahead of and around the sunrise tomorrow. Winds overnight will range from 5-12 mph with gusts as high as 17 mph. A freeze watch is in effect for all Middle Georgia counties except Treutlen, Wheeler, and Telfair until tomorrow at 11 am.
Tomorrow

The winds will calm down a good bit as the nor'easter over New England moves out. However, until high pressure moves through the region overnight, winds will remain out of the north at around 5 mph. Gusts could push as high as 15 mph. Skies will remain sunny through the afternoon as temperatures peak in the low to mid 60s.
Skies will again be clear for our Wednesday night as high pressure moves through the region. Winds will shift from north to south at around 5 mph. Low temperatures will largely be in the low to mid 30s around the region.
Thursday and Beyond

A warm front moving through on Thursday will lead to south-southwest winds of 5-15 mph transporting warm and moist air into the region. Highs will largely be in the lower 70s Thursday afternoon with some cirrus clouds likely to move in ahead of the night. Cloud cover likely will thicken ahead of Friday morning with showers possibly moving into the region during the late afternoon hours. Heavy rain and perhaps thunderstorms will be possible overnight and into Saturday morning.
Follow Meteorologist Aaron Lowery on Facebook (Aaron Lowery 41NBC) and Twitter (@ALowWX) for weather updates throughout the day. Also, you can watch his forecasts Monday through Friday on 41NBC News at Daybreak (5-7 a.m.) and 41Today (11 a.m).