Community devastated by Macon Co. Sheriff's sudden death
MONTEZUMA, Georgia (41NBC/WMGT) – It was a somber day for residents and members of the law enforcement community in Macon County as they mourned the loss of Sheriff Charles Cannon, Jr.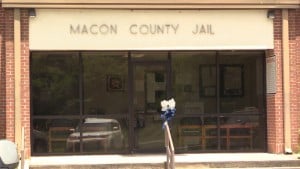 Blue & white bows on the front doors of the sheriff's office signify the passing of a man who dedicated his life to local law enforcement.
"Oh, he's going to be missed. I mean, he was a good officer, a detective here with the city of Montezuma and he's going to be very missed," said Chief Deputy Leonard Johnson with the Macon County Sheriff's Office.
Sheriff Cannon's death early Wednesday morning was sudden and unexpected.
"He became ill this past weekend and his condition declined and he died of respiratory failure from pneumonia," said Macon County Coroner Brenda Oglesby.
His passing was especially difficult to grasp for those who knew him best.
"When I heard the information this morning about the passing of Sheriff Cannon, I was strictly devastated. Sheriff Cannon was like a brother to me. We worked together for over 20 years," said Montezuma Police Chief Eric Finch.
Cannon was a detective with the Montezuma Police Department before following in his father's foot steps and taking office as sheriff.
"His father was sheriff here in Macon County for over 40 years and he had recently retired," Johnson explained.
Both friends and colleagues say he served his community with dignity and dedication.
"He was very kind-hearted, he had a very pleasant attitude toward everybody, and he never met a stranger, he was a true brother and a friend," Finch told 41NBC.
A white hat in the community with blue running through his veins, Sheriff Cannon may be gone but will not be forgotten by those who served by his side.
Cannon was only a year and a half into his first term as sheriff. Chief Deputy Leonard Johnson says he will serve as interim-sheriff until the county holds a special election to replace Cannon.
No word yet on when the election will be but we will keep you updated.
Montezuma police officials paid tribute to Cannon in a processional this morning from the hospital back to Macon County.