Cold front brings showers Thursday afternoon; cooler temps Friday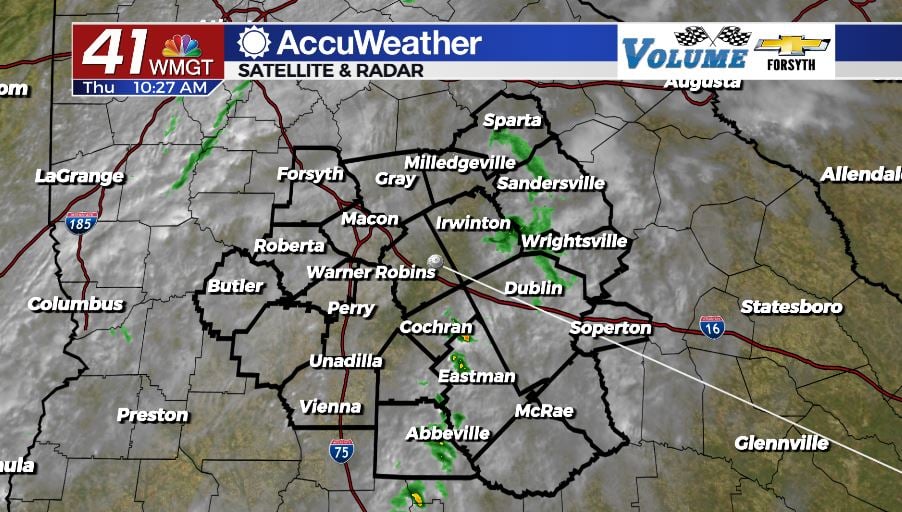 MACON, Georgia (41NBC/WMGT) – An incoming cold front will bring scattered showers along with some cooler and drier air to Middle Georgia ahead of the weekend.
Today

A blanket of clouds will stick around Middle Georgia all day today. Temperatures will still reach their peaks for the week as they reach the mid 70s for most of the region. Winds will be rather strong as well out of the southwest. Sustained speeds will fall between 10-20 mph and gusts will push 30 mph. Showers will be possible around the region throughout the lunchtime hours with the cold front bringing a line of showers to the region beginning around 1 PM. These could have a rumble of thunder with them, but thunderstorms overall are not expected. These showers will scatter as they move through the region, and all rain activity should subside by around 6 PM.
Cloud cover will break shortly after the sunset tonight, and the winds will shift more towards the west-northwest. Gusts will push 20-25 mph overnight. Skies should be almost clear by the time midnight rolls around. Temperatures will bottom out in the low to mid 40s around the region leading into Friday morning.
Follow Meteorologist Aaron Lowery on Facebook (Aaron Lowery 41NBC) and Twitter (@ALowWX) for weather updates throughout the day. Also, you can watch his forecasts Monday through Friday on 41NBC News at Daybreak (5-7 a.m.) and 41Today (11 a.m).