Cloud cover thickens Thursday ahead of rain early Friday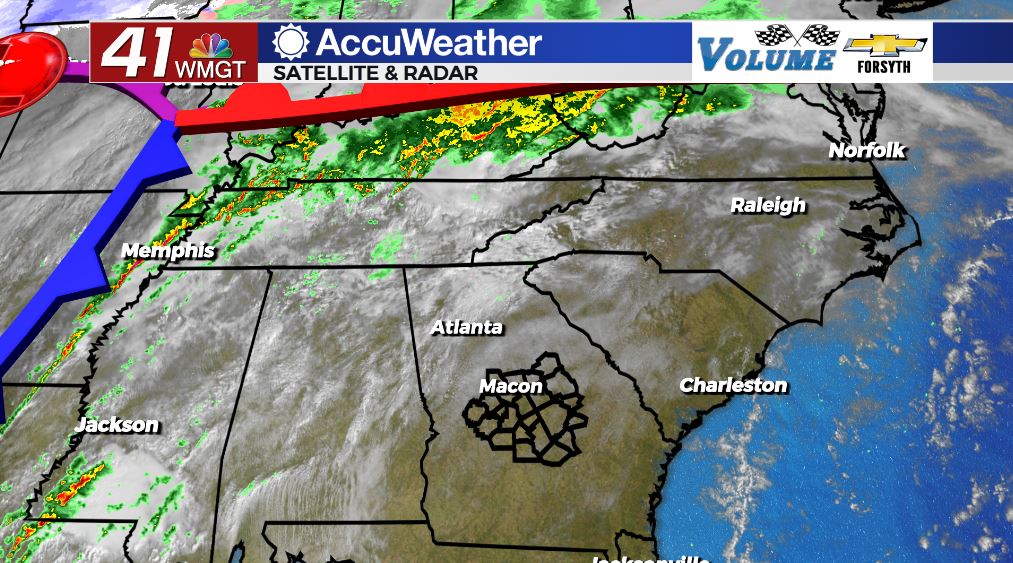 MACON, Georgia (41NBC/WMGT) – An incoming storm system will bring added cloud cover Thursday and rain Friday morning.
Today

Temperatures will reach their peaks for the week this afternoon as they largely reach the upper 70s. A few spots will climb over the 80 degree mark. Cloud cover will increase throughout the day, however, with upper level clouds arriving first and mid-level clouds moving in during the middle of the day. Winds from the south-southwest at 5-15 mph and gusts upwards of 30 mph continue to transport more heat and moisture into the region. Rain during the day, however, will be limited to a couple of small isolated showers at the most.
Tonight even things will largely remain just cloudy heading into the midnight hour. Winds will continue to blow from the south-southwest at 5-15 mph until the cold front begins to arrive around 3-4 AM. When the front arrives, the rain will begin to move in and the winds will begin to shift to the northwest. Temperatures out the door tomorrow morning will likely be in the low to mid 60s, however actual low temperatures will be in the low to mid 50s and likely will not occur until about 10 am.
Tomorrow and Beyond

Rain will likely stick with Middle Georgia tomorrow until lunchtime. During the early afternoon hours is when high temperatures will peak in the upper 50s and lower 60s before dropping the rest of the way. The cooler conditions can be credited to northwest winds of 5-15 mph with gusts upwards of 30 mph. Cloud cover will linger for much of the day, however some clearing will occur during the afternoon hours, especially the northwestern counties.
Tomorrow night will be a cold one as cloud cover is expected to be completely cleared by midnight. Leftover heat from the afternoon will radiate to the upper levels of the atmosphere due to the lack of cloud cover, and the continued winds from the north-northwest will bring frigid chills to the region. Low temperatures will largely be at or below freezing heading into Saturday morning.
The sun will be back for the weekend along with cooler conditions, however temperatures will rebound quickly with the 70s expected to return by President's Day on Monday.
Follow Meteorologist Aaron Lowery on Facebook (Aaron Lowery 41NBC) and Twitter (@ALowWX) for weather updates throughout the day. Also, you can watch his forecasts Monday through Friday on 41NBC News at Daybreak (5-7 a.m.) and 41Today (11 a.m).