Cloud cover; shower chances return to Middle Georgia Tuesday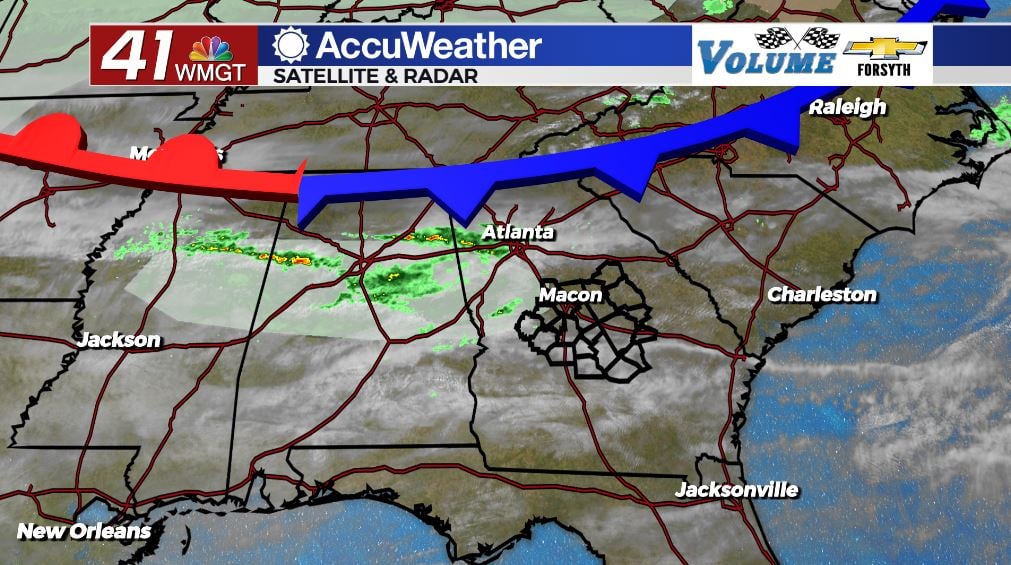 MACON, Georgia (41NBC/WMGT) – Mostly cloudy skies will take over Middle Georgia today with the possibility for a few isolated showers.
Today

Cloud cover moved into Middle Georgia overnight. While there likely will not be blanket conditions at any point today, almost all levels of cloud cover are at play. Cirrus clouds will make up the bulk of what Middle Georgia sees this afternoon, however some mid-level clouds will move through the area during the afternoon, and anywhere that sees showers will likely see some lower-level clouds. Rain chances will be highest during the lunchtime hours, and the northern counties of the region are the ones most likely to see them, however some smaller scattered showers will be possible further south.
Temperatures will peak this afternoon in the low to mid 70s across Middle Georgia. Winds will be rather breezy from the west-southwest with sustained speeds of 4-16 mph (the lower speeds are likely this evening) and gusts upwards of 25 mph. Cloud cover is expected to break up leading into the overnight hours.
While overhead clouds clear tonight, fog is likely to fill in for many around Middle Georgia ahead of tomorrow morning. Temperatures and dew points will bottom out in the lower 60s. Additionally, winds will back off to about 3-10 mph from the southwest. The slower the wind is, the more fog there will be.
Tomorrow

Temperatures will rise into the lower 80s across Middle Georgia tomorrow under partly cloudy skies. Winds will blow from the south-southwest at a strong clip of 8-17 mph. Gusts will push upwards of 30 mph. A couple of isolated showers will be possible in the morning, however most of the day will simply see a mix of sun and clouds.
Cloud cover will increase again overnight, particularly at the mid levels. An isolated shower or two will be possible, but most of the region will stay dry. Winds will blow from the south-southwest at 9-13 mph with gusts upwards of 25 mph. Temperatures will bottom out in the low to mid 60s.
Thursday and Beyond

Things will stay warm Thursday with highs in the low to mid 80s under partly cloudy skies. Winds will continue to blow from the southwest at 5-17 mph (slower speeds arrive later). Some scattered showers will be possible in the afternoon.
Friday will see the southwesterly winds finally break down as they become variable. This will allow temperatures to drop back below the 80 degree mark. The shift in winds will likely be accompanied by some showers.
Follow Meteorologist Aaron Lowery on Facebook (Aaron Lowery 41NBC) and Twitter (@ALowWX) for weather updates throughout the day. Also, you can watch his forecasts Monday through Friday on 41NBC News at Daybreak (5-7 a.m.) and 41Today (11 a.m).