Braves playing at a special place in Los Angeles
LOS ANGELES, California (41NBC/WMGT) – There's a see of blue here. Everywhere you walk, it's blue. Dodger Blue. The chairs are blue. The walls are blue. Their uniforms are blue. You'd think the players would have their faces painted blue.
That color that used to make me sick when the boys from Los Angeles were one of the Braves' biggest rivals.
The rivalry has tempered down now. Names like Lasorda, Hershiser and even R.J. Reynolds (gotta be a longtime Braves fan to get that reference) are no longer around. These two teams are no longer in the same division, so it doesn't matter like it did decades earlier.
When I was a kid, I would watch the Braves and Dodgers late night games on TBS. I was allowed to stay up and watch. I have a good mom who did those little things for me when I was young. It was all part of my development as a human being, right.
Well, along with watching those games came a deep hatred for the Dodgers. It was the Dodgers in 1982 the Braves battled for the division title, and it happened again nine years later. The Braves won both those seasons, but the division loss by three games in 1983 still stings.
Because it was the Dodgers who won it. The Dodgers. Those bleeding blue bloods from the west coast.
Two years ago, I had a dream come true when I finally got to see a game at Dodger Stadium. Yes, it was a dream. After all the decades of watching the Braves play those late-night west coast games on television, I wanted to be there, to see how crazy the environment really was and to see how blue it really was.
Well, something happened to me when I saw this stadium. It sits in a hole, dug out of a ravine in the Elysian Park neighborhood just north of downtown Los Angeles. When I enter, through the media gate, it's at the top of the upper deck. The view is breathtaking, with a stadium that was dug out around a bunch of hills and mountains.
Oh, those mountains. The San Gabriel Mountains are beyond the outfield. There are more that are far away that are visible. It is beautiful. Not many ballparks are surrounded by mountains, but this one is. For those of you who went to the Rose Bowl, it's the same thing. A stadium surrounded by mountains. That's something we don't have in the flatland of Georgia.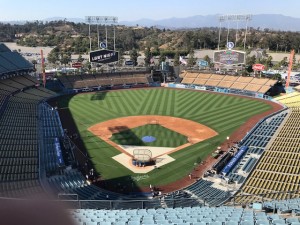 It's an old park, but it seems new. There aren't too many fancy roped-off sections or suites that we'll never be able to afford. It's just a bunch of seats, thousands of them.
This is now the third oldest ballpark in the Major Leagues. Only Fenway Park and Wrigley Field have been around longer. They've spruced this one up a bit, and it looks tremendous. It's clean, has great sight lines, and, unfortunately, it's blue.
It's like I've turned to the dark side, but only on the stadium. The hatred is not as severe about the Dodgers as it used to be, but it's still there. That's just where it ends. This stadium, for any baseball fan, is something to see.
I'm done now. I'm off to get a Dodger Dog. Yeah, those are pretty good, too, even if they're not blue.
Listen to The Bill Shanks Show weekdays at 3:00 p.m. ET on Middle Georgia's ESPN, 93.1 FM in Macon and 99.5 FM in Warner Robins and online at thesuperstations.com.