Approaching cold front may bring severe storms to Middle Georgia Thursday
MACON, Georgia. (41NBC/WMGT) – A cold front moving across the mid-west has potential to bring strong and/or severe storms to Middle Georgia in the next coming days.
Tuesday and Wednesday, a high pressure system will dominate the weather in the southeast. Sunshine and dry conditions are expected through Halloween.
Thursday, however, the cold front is forecast to move into the Deep South. The storm chance will increase throughout the day, with storms arriving Thursday afternoon through night.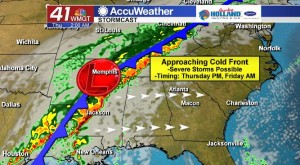 Isolated severe storms are possible as the cold front arrives.
The main threats will be:
Damaging winds (60 mph)
Possible tornadoes
Heavy rain
Have a way to get severe weather warnings, whether that be by watching 41NBC News on TV, downloading the FREE 41AccuWeather app to your mobile devices or purchasing/turning on a NOAA Weather Radio.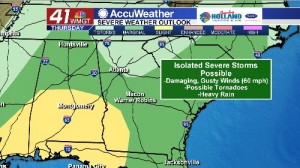 Halloween day and night in Middle Georgia will feature dry weather.
Storm chances increases throughout the day THURSDAY.
Following the front, cooler/drier air will flow southward resulting in cooler temperatures and calmer weather.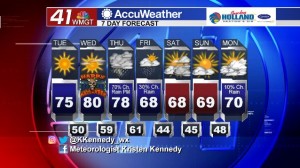 Connect with Meteorologist Kristen Kennedy on Facebook and Twitter for weather updates throughout the day. You can also watch her forecasts Monday through Friday on 41NBC News at Daybreak (5-7 a.m.) and 41Today (11 a.m.).