Another pleasant day on deck Tuesday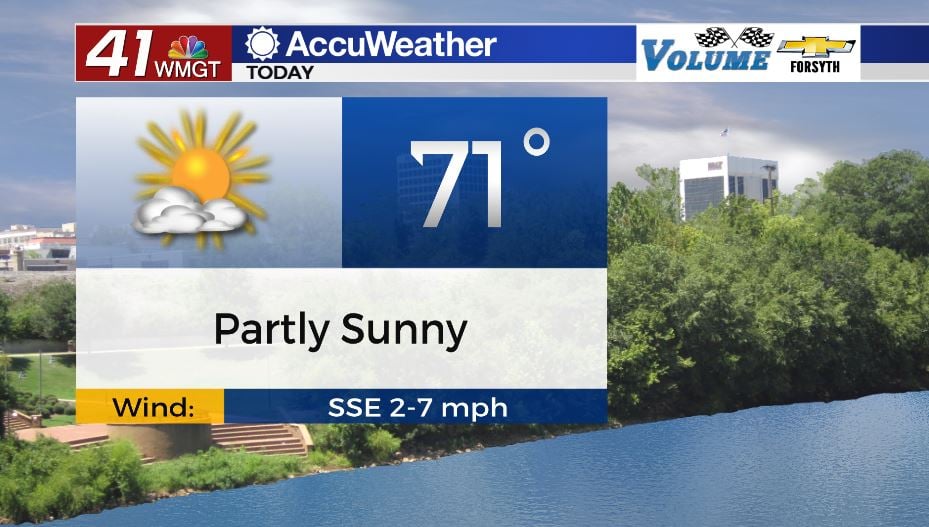 MACON, Georgia (41NBC/WMGT) – Temperatures will warm more Tuesday afternoon as plenty of sun sticks around.
Today

It was a chilly and clear morning around Middle Georgia as most of the region began the day with temperatures in the mid to upper 30s. Overall conditions will be pleasant today as highs reach into the lower 70s. Winds will blow from the south-southeast at around 5 mph. Cloud cover will largely be upper level cirrus clouds throughout the day, but a couple of mid-level cumulus clouds will also be possible.
Tonight cloud cover will thicken a bit, however blanket conditions are not anticipated. Dew points and temperatures will both be in the upper 40s and lower 50s heading into tomorrow morning. Given overnight winds from the southeast at around 5 mph, some fog will be possible to begin Hump Day in Middle Georgia.
Tomorrow

Middle Georgia should still see a fair amount of sun tomorrow as highs reach into the low to mid 70s. It will be a bit muggier, however. Dew points Tuesday afternoon are largely in the upper 30s and lower 40s; by tomorrow afternoon they will be pushing into the mid to upper 50s. South-southeast winds around 5 mph can be thanked for the added humidity. Most of the cloud cover will once again be cirrus clouds, however there will be a larger presence of mid-level clouds as well.
Tomorrow night will be mostly cloudy and a couple of the western counties in the region could see an isolated shower. Low temperatures will largely be in the mid to upper 50s across the region. Winds will blow from the south-southeast at about 5-10 mph. While those are not strong winds by any means, it could be enough to limit fog potential early on Thursday.
The Rest of the Week

Thursday will see the arrival of a cold front late that could bring some storms to Middle Georgia. That cold front looks to be weakening as it moves in based on current model trends. It looks like some Gulf moisture is expected to push the south end of that front northward, stalling it out and creating a stationary front pattern. This could bring some heavy rain to Middle Georgia on Friday. Things should work to clear out on Saturday with the sun returning by Sunday.
Follow Meteorologist Aaron Lowery on Facebook (Aaron Lowery 41NBC) and Twitter (@ALowWX) for weather updates throughout the day. Also, you can watch his forecasts Monday through Friday on 41NBC News at Daybreak (5-7 a.m.) and 41Today (11 a.m).