Cattle escape trailer in downtown McRae-Helena, roundup ensues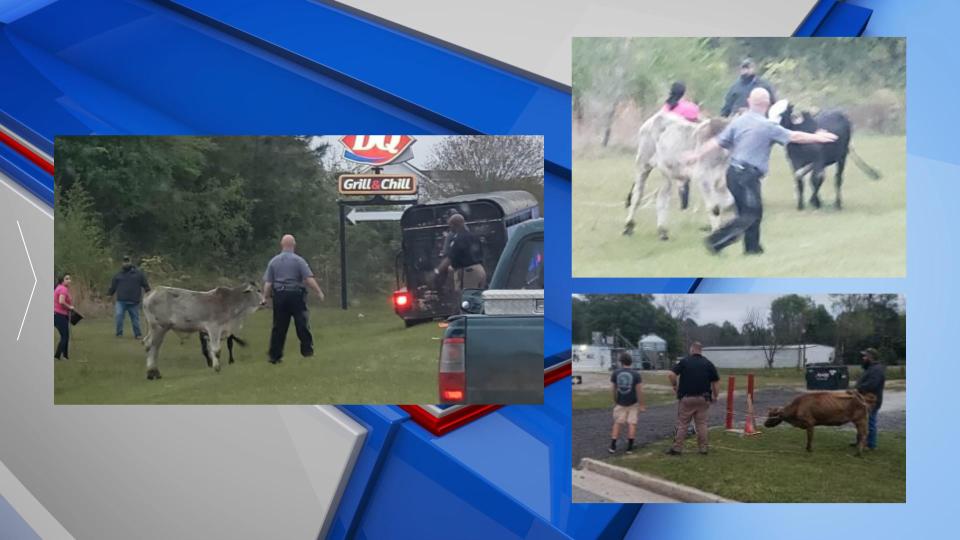 MCRAE-HELENA, Georgia (41NBC/WMGT) — Bright and early on Wednesday in Telfair County, Police had an unexpected cattle roundup.
As you can see in these photos posted by the Telfair County Sheriff's Office, some cows escaped their trailer while on their way to be relocated– McRae-Helena Chief of Police Glenn Giles says it happened when the latch on the trailer broke off, and the cows fell out of  the trailer. Police were called to help round up the cattle that were let loose in the middle of town, as the incident occurred while driving down US-341 at 6:30 a.m.
Chief Giles says about 4 cows got out, and while they were contained within a block, it took the combined efforts of the cows' owners, police officers, and some deputies from the sheriff's office (a total of around 7 people) to round up the runaways just before 9 a.m.
One cow was reported to have passed away from the incident, but no other injuries were reported.