Rain returns to Middle Georgia Thursday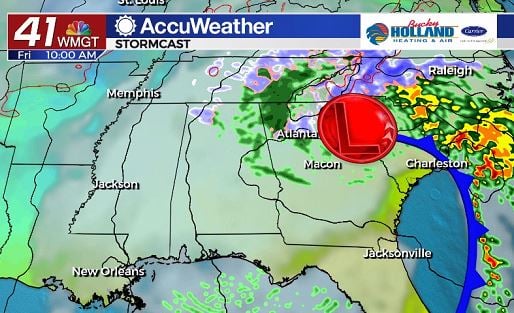 After a few dry and warm days in Middle Georgia we are tracking our next chance for rain by tomorrow afternoon.
A cold front will be moving into the area Thursday afternoon, increasing cloud cover and rain chances (mainly after 3pm).
Rain will be hanging around through the evening on Thursday and into Friday.
An isolated thunderstorm can't be ruled out, but mostly we will be seeing just rain.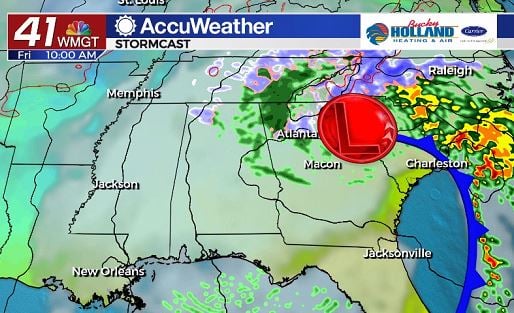 By Friday morning the front will have moved through Georgia, but lingering wrap around moisture will be on the other side of that low pressure system, so don't put your umbrellas away quite yet.
Any kind of winter weather will be staying well to our north, but it will be cold.
Highs on Friday will be limited to the 40's with lows falling back into the 30's.
The weekend will be cool and dry behind the front with plenty of sunshine on the way.
Highs will be staying mainly in the mid and low 50's.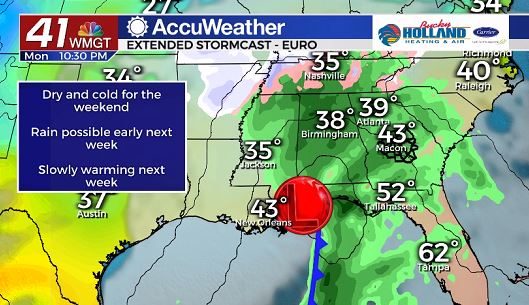 Another system will be pushing in from the south on Monday evening and Tuesday.
There are still some questions about how cold this system will be, as well as how much moisture there will be, but right now expect some scattered showers to start the week.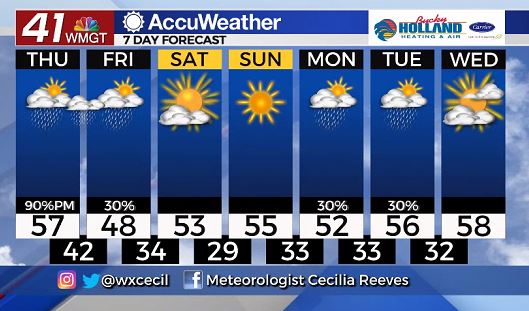 Temps will be warming slowly as we move into next week.
Showers will be hanging around Tuesday, finally clearing Tuesday night, with sunshine returning Wednesday.