Heartwarming Weather in Middle Georgia This Valentine's Day
MACON, Georgia (41NBC/WMGT) – Heartwarming weather is setting up in Middle Georgia today.
Valentine's Day will start off with dense clouds across Middle Georgia. There will be some areas of patchy fog and mist through the morning hours. Clouds will stick around throughout the day. Regardless of whether we see any sunshine, temperatures will still rise to the mid-upper 60's.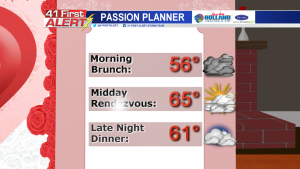 Middle Georgia will get a little break from the rain Wednesday and Thursday. The clouds may even break apart Thursday afternoon, revealing the sun we haven't seen in DAYS!
It won't last long though… Another cold front will move into the southeast on Friday. It will produce a few pop-up showers Friday and isolated showers through the weekend.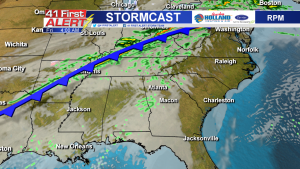 Get ready for a big warm up Thursday and Friday. Temperatures will top out in the mid-70's, close to 80! If that's a little too toasty for your liking, there will be a brief cool down Sunday.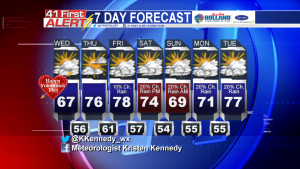 Connect with Meteorologist Kristen Kennedy on Facebook and Twitter for weather updates throughout the day. You can also watch her forecasts Monday through Friday on 41NBC News at Daybreak (5-7 a.m.) and 41Today (11 a.m.).