Woman pleads guilty in Macon home invasion, sentenced to 20 years
MACON, Georgia (41NBC/WMGT) – A woman will spend 13 years in prison for the role she played in a robbery in the Barrington Hall Subdvision in Macon.
23-year-old Jasmine Byrd was sentenced to a total of 20 years without the possiblity of parole. This week, Byrd pleaded guilty to robbing a woman at gunpoint outside her home in Laurel Place back in January 2017.
Byrd and 21-year-old Quatrell Spearman also held the woman's husband at gunpoint when he came out to help his wife. They stole the woman's money and used her debit card shortly after the robbery.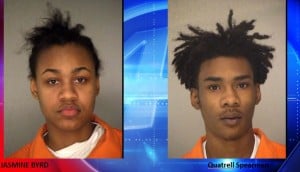 "No amount of money is worth the fear this innocent couple suffered in their own garage. All too often, what begins as an armed robbery goes further and lives are lost. I hope Ms. Byrd spends the next 13 years behind bars reflecting on the value of having a home, a sacred place to feel safe, and that she won't violate that sanctity ever again," says District Attorney, David Cooke.
Spearman was sentenced to 20 years, 13 years in prison, back in July.