Winter Weather Possible in Middle Georgia
MACON, Georgia (41NBC/WMGT) – Chances are you've probably heard the "S" word mentioned in our forecasts. Yes, there is the chance we may see some snow here in Middle Georgia. But don't get ahead of yourself – this won't be a major event for central Georgia.
In order for us to get that wintry precipitation, two factors need to come together: cold air and moisture.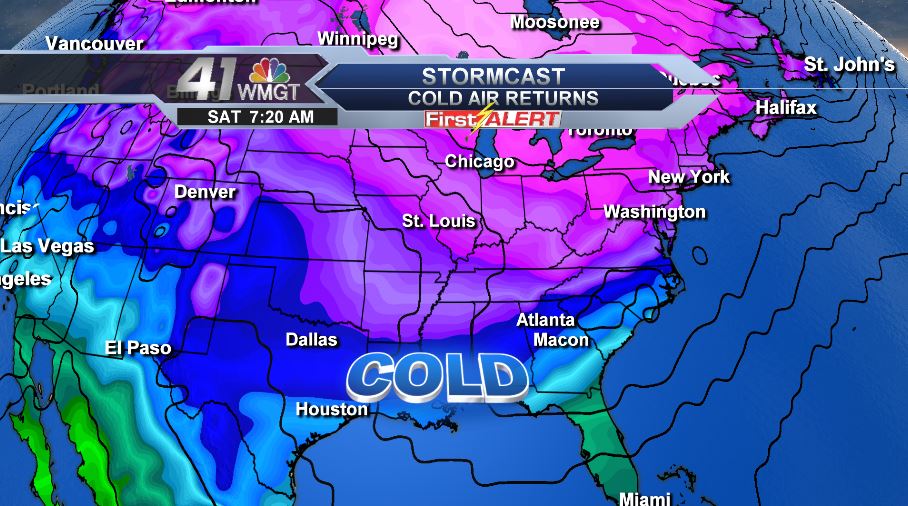 Starting off Friday morning, arctic air will be stretching south into the northern portion of Texas. The arctic air will shift east overnight Friday into Saturday morning, dropping our temperatures close to freezing.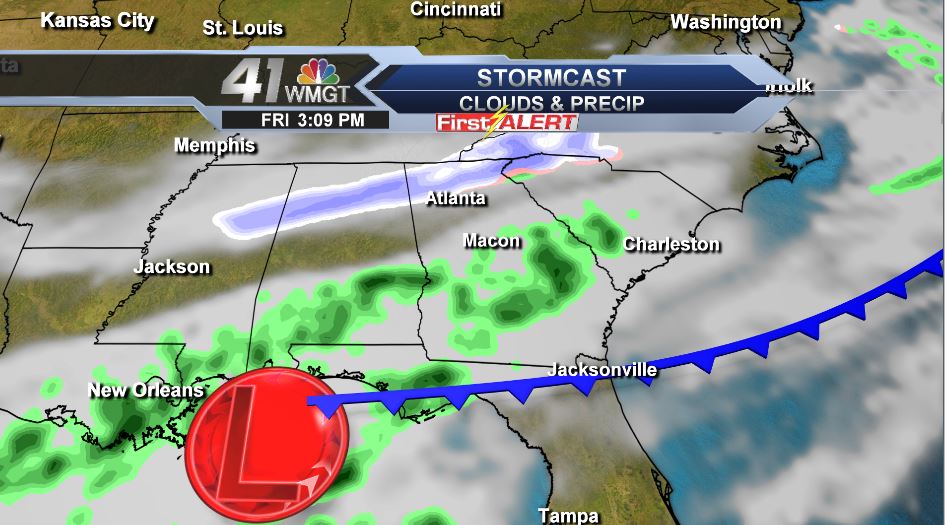 A low pressure system along the Gulf Coast will increase moisture content in the atmosphere. The counter-clockwise winds with this low pressure system will give us a southerly wind flow heading into Friday. Winds from the south will usher in ample moisture for precipitation during the day and overnight. Rain will transition into snow in North Georgia as cold air moves in through the afternoon. However, temperatures will be too high for snow to fall Friday afternoon in Middle Georgia, so it's likely we'll just have rain showers down here during the day.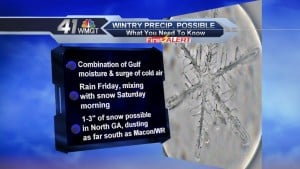 As the cold air shifts farther south late Friday night into Saturday morning, recent model updates are showing that some snow may mix in with the rain here in Middle Georgia. As more cold air reaches the northern counties of Middle Georgia, the wintry mix may transition to all snow or mostly snow. The best chance for higher snowfall totals lies north of Macon, stretching from Forsyth into North Georgia. While it's still possible that locations as far south as Macon and Warner Robins may see a dusting of snow (less than an inch), the farther south you go, the less likely it is that snow will fall.
As of 2:36 p.m., the National Weather Service issued a Winter Storm Warning for 45 counties across North/West central Georgia, including Monroe County. Higher snowfall amounts are expected in North Georgia, including metro-Atlanta and as far south as the city of Forsyth. The chance for 2-4 inches of snow is highest in locations north of Macon, where the Winter Storm Warning is in effect. If snow bands develop and thrive, isolated higher amounts are possible.
If you are planning on travelling north into Atlanta this weekend, your best bet is to get to your destination before Friday afternoon. As the rain in North Georgia transitions into snow, roads will become slick, making travel hazardous. Northwest winds gusting up to 30 mph will also make it hard to control your car at times.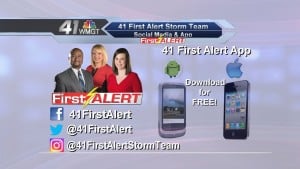 As we get closer to the event, confidence is growing in the latest model updates. We will have updated forecasts on 41NBC News with the latest model runs tonight and throughout the day tomorrow. We'll also be posting updates online to our weather social media accounts – give us a follow! For weather on the go, you can download our 41 First Alert Storm Team App! Not only is it free to download, but you can receive weather warnings and live stream the news from your mobile devices.