Widespread Rainfall Likely in Middle Georgia This Weekend
MACON, Georgia (41NBC/WMGT) – This weekend's weather is going to be a washout for much of Georgia!
A warm front will push northward into the southeast from the Gulf of Mexico Friday, increasing cloud cover and rain coverage throughout the day. Meanwhile, a cold front will start moving east from the mid-western states, causing all that warm, moist air to rise and produce rain showers.
As of Friday morning, there was no threat of severe weather heading into the weekend. However, a line of heavy rainfall and embedded thunderstorms will develop Sunday as the front moves into Middle Georgia. The 41First Alert Storm Team will be monitoring it's progression and alert the area of any developing storm threats.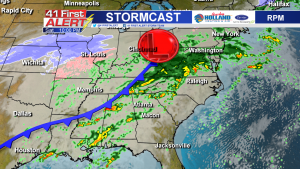 The highest rainfall totals are expected in north Georgia and east Tennessee. Middle Georgia could pick up on 1-2 inches of rain with locally higher amounts possible. A Flash Flood Watch may be warranted heading into the weekend.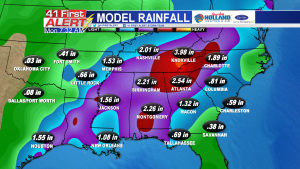 The chance for rain will extend into next week, becoming less frequent by mid-week. Temperatures will continue to trend into the 60's and 70's.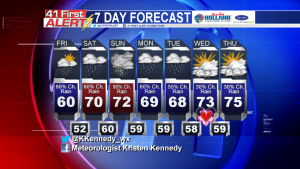 Connect with Meteorologist Kristen Kennedy on Facebook and Twitter for weather updates throughout the day. You can also watch her forecasts Monday through Friday on 41NBC News at Daybreak (5-7 a.m.) and 41Today (11 a.m.).