Wet weather continues before drier/cooler air returns this weekend
MACON, Georgia. (41NBC/WMGT) – Wet weather continues in Middle Georgia this week as a stalled cold front sits near the Florida/Georgia border and multiple waves of energy ripple throughout the atmosphere. If you're hoping for drier and cooler weather, just wait a few more days – it's coming this weekend!
For Thursday, however, the rain chance continues with scattered showers throughout the morning and thunderstorm development in the afternoon
The day will start with temperatures in the low 60's. By the afternoon, the highest temperature reached should also be in the upper 60's. Dense cloud cover will keep temperatures mostly steady throughout the day.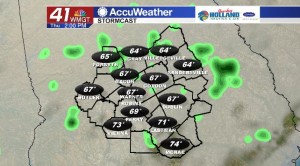 There is another threat for severe weather in Middle Georgia Thursday, mainly in the afternoon and evening.
Isolated severe storms will be possible with threats of damaging winds and an isolated, brief tornado.
Have a safety plan in place and stay with 41NBC News throughout the day for the latest weather updates.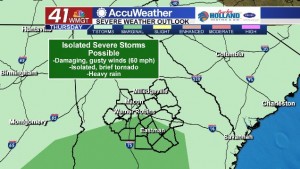 Friday's rain chance will come from another cold front moving from west to east.
This front is expected to clear the state of Georgia by early Saturday morning. As the front pushes east, it will help push the clouds away.
A high pressure system will build up over the mid-west, bringing a northwesterly wind to Middle Georgia that will allow colder and drier air to flow southeast.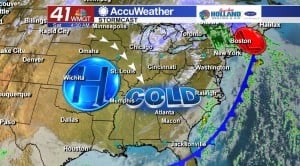 As a result of Friday's front, temperatures will drop into the 50's for the weekend.
The drier air in place will also limit rain activity.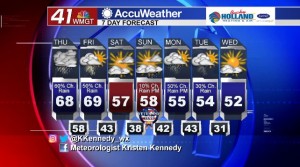 Connect with Meteorologist Kristen Kennedy on Facebook and Twitter for weather updates throughout the day. You can also watch her forecasts Monday through Friday on 41NBC News at Daybreak (5-7 a.m.) and 41Today (11 a.m.).