Weekend Storms, Severe Weather Possible in Middle Georgia
MACON, Georgia. (41NBC/WMGT) – It's finally Friday! A rather warm and mostly dry week will be ending on a soggy note.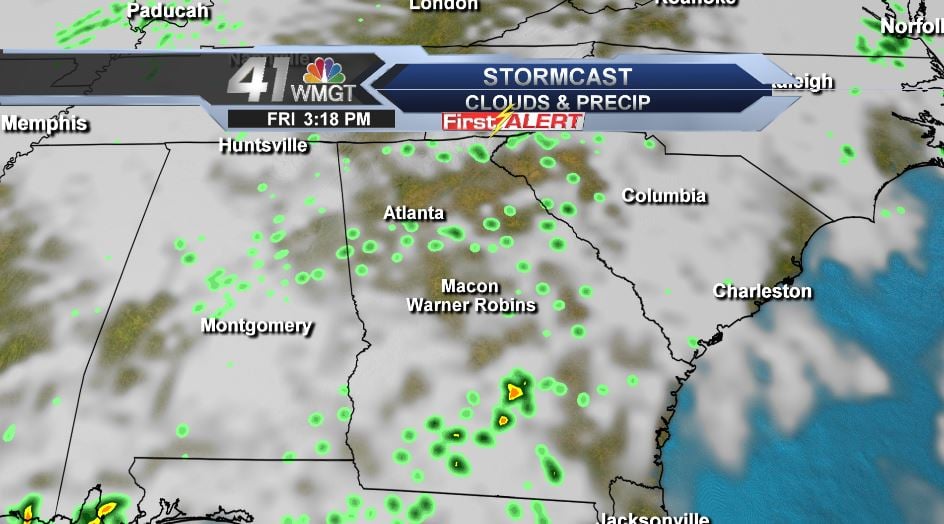 Friday will be a mostly quiet day, weather-wise, with isolated showers in the forecast. Temperatures will stay in the low-mid 70's. However, as we head into the weekend, that's when the weather will change.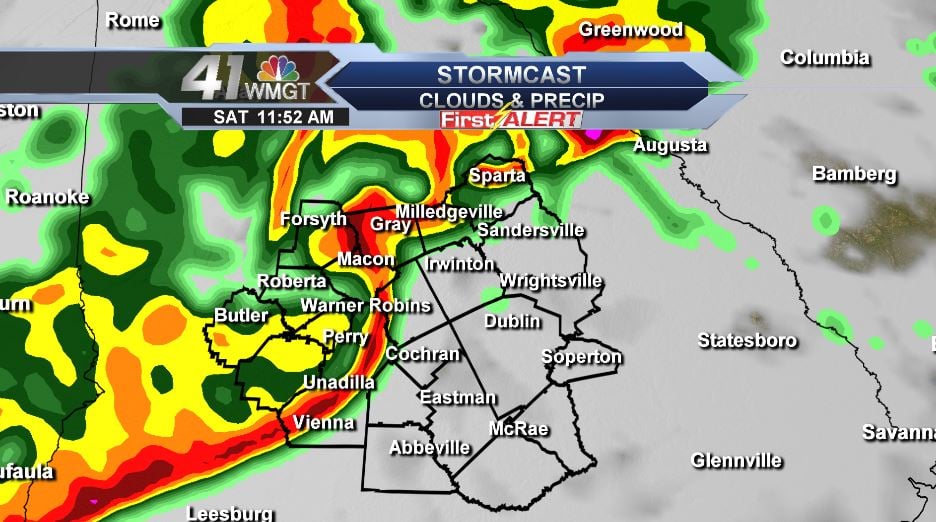 Starting Saturday morning around 6 a.m., storms will start to develop ahead of a squall line. The storms will push from west to east/southeast. The squall line will be entering Middle Georgia around 7 in the morning.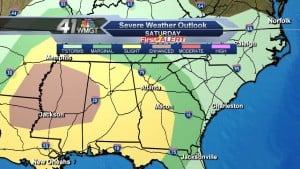 The Storm Prediction Center has placed Middle Georgia under a slight risk for severe weather on Saturday – indicating the potential for scattered severe storms. The main threats with these storms include damaging winds, hail and isolated tornadoes.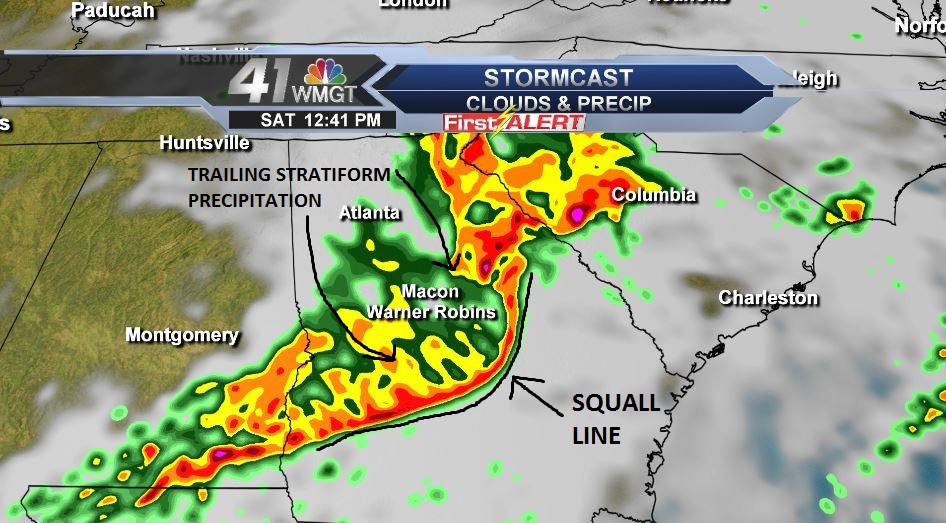 The type of system that will most likely develop is called a trailing stratiform squall line. The dangerous storms will likely be along the leading edge of the squall, while moderate to heavy rain falls behind the squall. The trailing precipitation will not clear Middle Georgia until the late afternoon hours on Saturday.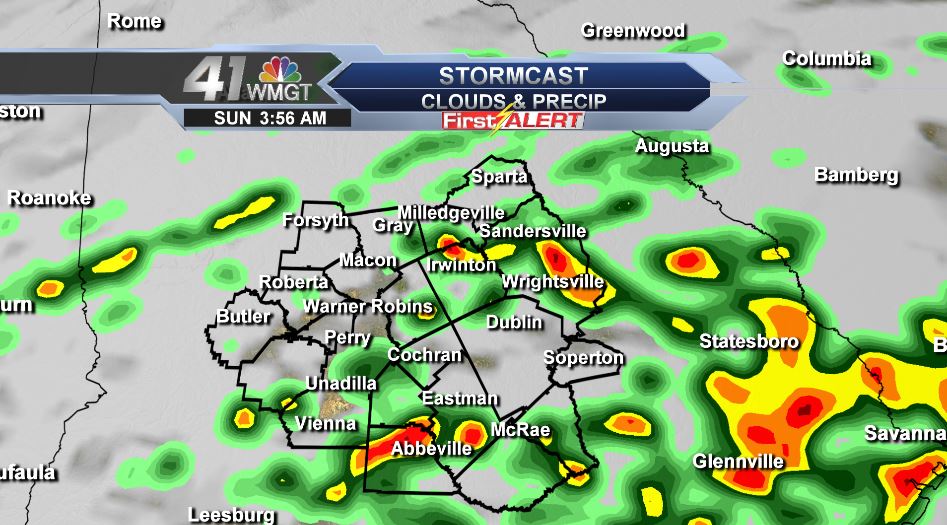 By Saturday evening, there will be a break in the storms. More storms are expected to fire up as we make the transition into Sunday morning. Sunday's threat for severe weather will come from individualized thunderstorms with the ability to strengthen and develop a better structure.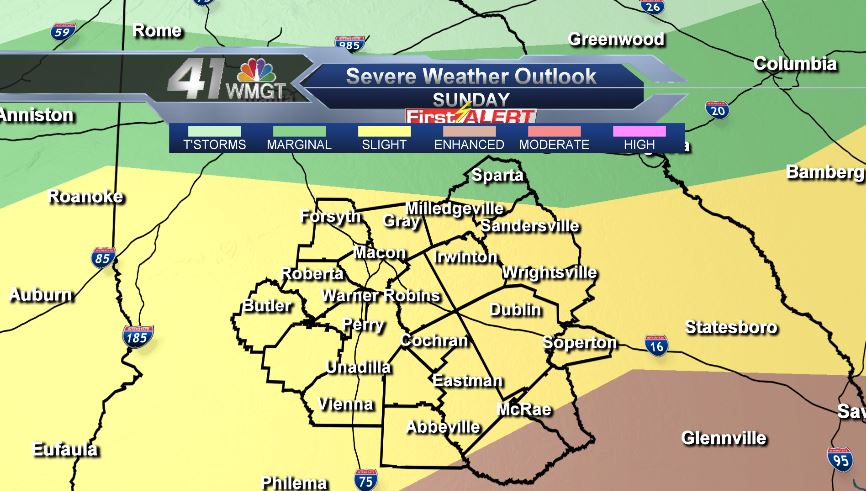 The majority of Middle Georgia is also under a slight risk for severe weather on Sunday. Telfair and Wheeler county are the only two counties that are under an Enhanced Risk for severe weather.
The environment in southern Georgia will be warmer and more unstable, making severe storms more likely. Storms may be more persistent or widespread, leading to intense conditions. A few tornadoes are possible, along with wind damage and damaging hail up to 2 inches in diameter.
With any risk of severe weather, it is important that you have a safety plan in place before warnings are issued. As always, the 41 First Alert Storm Team will alert you if severe weather moves through our area.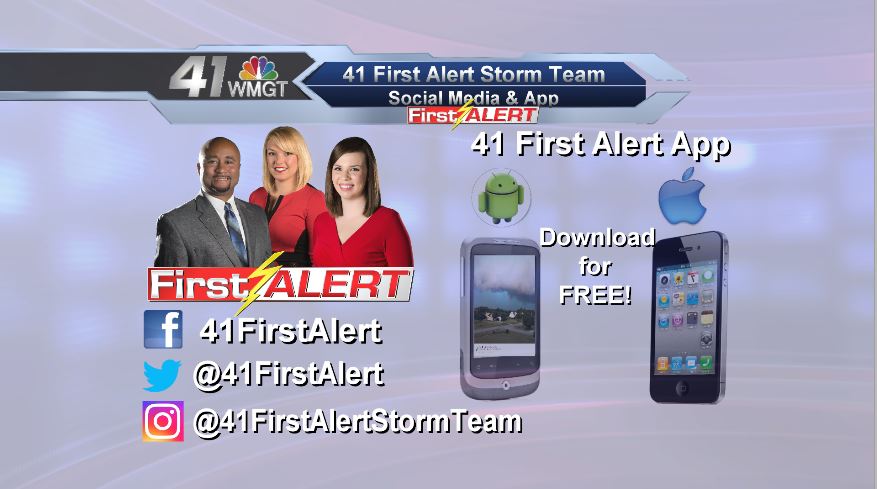 We'll have updated forecasts on 41NBC News with the latest model runs this evening. The weather team will also be posting updates online to our 41 First Alert social media accounts throughout the weekend – be sure to follow! For weather on the go, you can download our 41 First Alert Storm Team App! Not only is it free to download, but you can receive weather warnings and live stream the news from your mobile devices.