Wednesday Severe Weather Threat Shifts Northwest of Middle Georgia
MACON, Georgia (41NBC/WMGT) – Pull out the rain boots, rain jacket and umbrella – you're going to need them today!
A low pressure system with a cold front attached on the back end is swirling up a lot of moisture over the southeast, resulting in widespread rainfall Wednesday.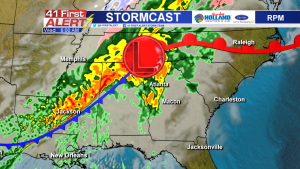 The cold front will bring a line of heavy rain (some thunderstorms possible) into Middle Georgia beginning around 12 p.m. Most of the rain will be gone by 7-8 p.m. Gusty winds are expected in the front of the line as well.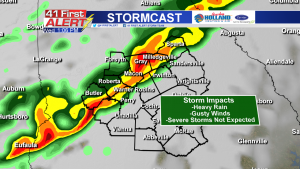 The threat for severe weather has shifted northwest of Middle Georgia. Isolated severe storms are possible in west Georgia and metro-Atlanta today. If any storms develop in Middle Georgia, they will likely stay below severe parameters.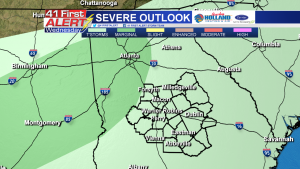 Today's frontal system will bring at least one half inch of rain to our area. Some locations could receive about an inch of rain at most.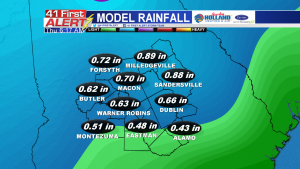 Heading into Thursday, a surface high will shift from the mid-west to the east coast. It will allow some cooler, drier air to filter into Georgia. Don't let your guard down though…another "super soaker" system develops this weekend bringing 1-2 inches of rain from Friday through Sunday.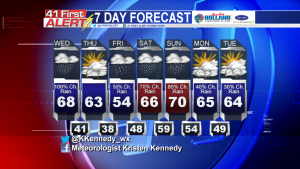 Connect with Meteorologist Kristen Kennedy on Facebook and Twitter for weather updates throughout the day. You can also watch her forecasts Monday through Friday on 41NBC News at Daybreak (5-7 a.m.) and 41Today (11 a.m.).