Warner Robins drug bust leads to arrest & seizure of drugs, guns, and more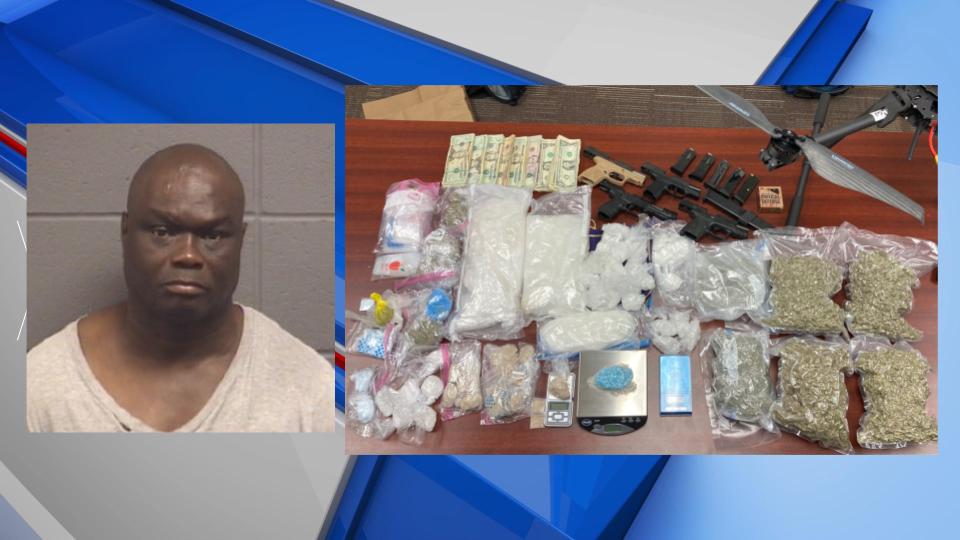 WARNER ROBINS (41NBC/WMGT) — Friday afternoon, the Warner Robins Police Department reported the serving of a search warrant that resulted in a drug bust of over 15 pounds of drugs as well as weapons and more.
According to the release, WRPD arrested 52 year-old Christopher Alan Houser of Warner Robins after an investigation through the combined efforts of the U.S. Drug Enforcement Administration, Narcotics officers with WRPD, the U.S. Postal Inspector, and the Department of Community Supervision. The officers made contact with Houser in the 2700 block of Watson Boulevard, and a search warrant was also served on a storage unit on Moody Road.
From these searches, Houser has multiple charges including drug trafficking of Meth and Fentanyl, Possession with intent of selling marijuana, possession of a firearm by a felon during the commission of a crime. Among the items seized from Houser there was 5 pounds of marijuana, 7 pounds of methamphetamine, 5 pounds of fentanyl, counterfeit pharmaceuticals (oxycodone) that tested positive for fentanyl, heroin. Authorities also seized guns, cash, a drone, and vehicles.
Houser is being held at the Houston County Detention Facility with a parole warrant. The release says the case will be prosecuted by the U.S. Attorney's Office through the Middle District of Georgia.