Warmer than normal weather continues, rain chances return to the forecast
MACON, Georgia. (41NBC/WMGT) -We are officially in the Fall season, but it's still going to be some time before it actually feels like Fall in Middle Georgia. The warmer than normal weather will continue this week, and unlike last week, rain chances will be higher.
The normal temperature in Macon, Georgia for the last week of September is around 84 degrees, according to the National Weather Service in Peachtree City. Afternoon highs are still expected to be close to five degrees higher, though, topping out in the low 90's.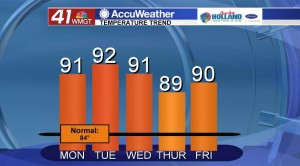 Part of the reason why it will still be warm this week is due to a stalled out cold front that's just north of Atlanta.
This system is keeping the cooler, drier air to the northwest and the warmer, more humid air in the Deep South.
With more moisture flowing over the southeast this week, not only will humidity be higher, but there will be a better chance for pop-up showers and storms daily.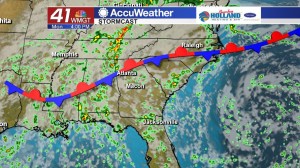 The rain chance will mainly be isolated in nature for much of the next week. Though, the day with the most widespread rain will be Thursday – and even with that forecast, the rain will be scattered in nature.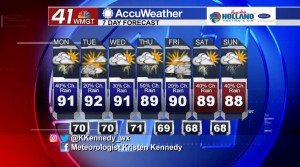 Connect with Meteorologist Kristen Kennedy on Facebook and Twitter for weather updates throughout the day. You can also watch her forecasts Monday through Friday on 41NBC News at Daybreak (5-7 a.m.) and 41Today (11 a.m.).