Warmer Temperatures Coming to Middle Georgia
MACON, Georgia. (41NBC/WMGT) – After an extended period of below average temperatures we will finally begin to warm up.
Today.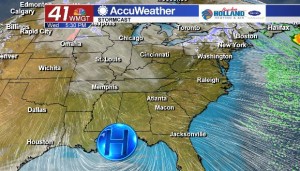 Once again we will be dealing with high temperatures that are well below the 65° average for this time of the year. I am expecting today to be much like yesterday where afternoon temperatures struggle to get out of the 40's. While we will be dealing with winds gusting to fifteen miles per hour during the early afternoon hours, they will subside as we move into the evening hours. Overnight temperatures will be at or below the freezing mark for most of our area. Patchy frost can be expected to form overnight tonight.
Tomorrow.
After struggling to make it out of the 40's for a couple of days temperatures will rebound in a big way on Thursday. Under a partly cloudy sky temperatures will soar into the low-to-mid 60's in Middle Georgia. Clouds will increase throughout the day and hang around into the overnight hours. This will keep morning low temperatures in the mid 40's which is a few degrees above the normal low temperature for this time of year (40°).
Weekend.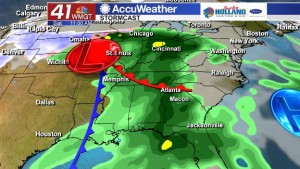 The work week in Middle Georgia has been cold and dry, but that will change drastically as we head into the weekend and beyond. There is a 30% chance of rain Friday evening ahead of more widespread rain and storms on Saturday. A deepening low pressure center moving towards the east from the Rockies will give us the chance of strong to possibly severe storms on Saturday. This is an evolving system that I will continue to monitor as it progresses our way. On Sunday we still have rain hovering around, but the coverage will be less.
*One of the best ways to get severe weather alerts in the event that you need them is through the 41NBC Accuweather App. It can be downloaded from the Apple or Android store.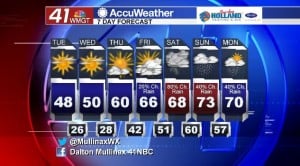 Connect with Meteorologist Dalton Mullinax on Facebook (Dalton Mullinax 41NBC) and Twitter (@MullinaxWX) for weather updates throughout the day. You can also watch his forecasts Monday through Friday on 41NBC News at Daybreak (5-7 a.m.) and 41Today (11 a.m.).