Warmer temperatures arrive Thursday ahead of clouds and rain Friday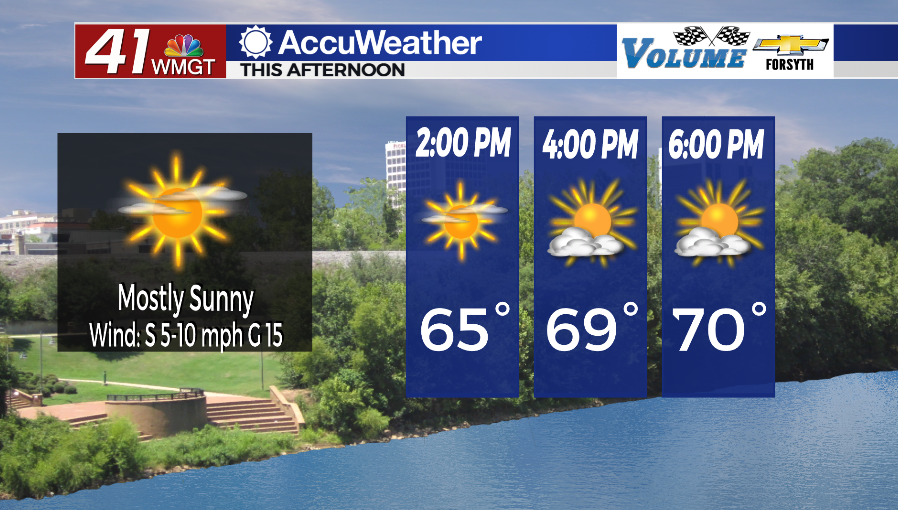 MACON, Georgia (41NBC/WMGT) – Winds have returned to the south around Middle Georgia to allow heat and moisture return to the region.
Today

Sunny skies are with Middle Georgia once again today following a cold morning. A few cirrus clouds are expected throughout the day with more of them arriving during the later hours. Winds have shifted back to the south following high pressure moving through the region. They will be rather calm, however, ranging from 5-10 mph with gusts upwards of 15. High temperatures are expected to be in the lower 70s across the region. Dewpoints will also continue to rise today as a warm front makes its further north, indicating a rise in the moisture content.
Tonight cloud cover will increase further, especially ahead of the sunrise tomorrow. Winds will remain out of the south at 5-10 mph. Low temperatures will make a big jump from last night/this morning, only dropping into the lower 50s and upper 40s. Winds should increase and shift to the south-southwest ahead of sunrise tomorrow as well, so fog is highly unlikely.
St. Patrick's Day

There will be plenty of cloud cover around Middle Georgia for our Friday, however a few pockets of sunshine will remain possible. Temperatures will reach their peaks for the week as they climb into the mid to upper 70s. Winds will be very strong out of the southwest with sustained speeds ranging from 15-25 mph and gusts likely over 30 mph. This is all before storms arrive in the evening. For the most part rain will hold off until the cold front arrives in the evening, however a couple of isolated showers will be possible in the afternoon.
The cold front will arrive in the evening, bringing with it a line of thunderstorms and heavy rain. As of now the Storm Prediction Center has issued a Level 1 "Marginal" risk for severe weather for the western half of the region. More than likely we will just see heavy rain and some strong wind gusts, however enough low level shear exists that if things were to work out perfectly some embedded rotation would be possible. Dew points rising only into the upper 50s and lower 60s ahead of the front, however, will severely hamper most intense thunderstorm activity.
Behind the main line of storms will likely be some widespread moderate rainfall. When added to the initial downburst of heavy rain from the line, flash flooding becomes a concern, particularly in low lying areas. Most of the rain should be done by midnight but a few showers may linger. Mostly cloudy conditions will stick around into Saturday morning, however a bit of clearing is expected ahead of sunrise. Temperatures will bottom out in the lower 40s around the region. Winds behind the front will blow at 10-15 mph with gusts upwards of 25.
Follow Meteorologist Aaron Lowery on Facebook (Aaron Lowery 41NBC) and Twitter (@ALowWX) for weather updates throughout the day. Also, you can watch his forecasts Monday through Friday on 41NBC News at Daybreak (5-7 a.m.) and 41Today (11 a.m).