Warm start to the week, two cold fronts coming to Middle Georgia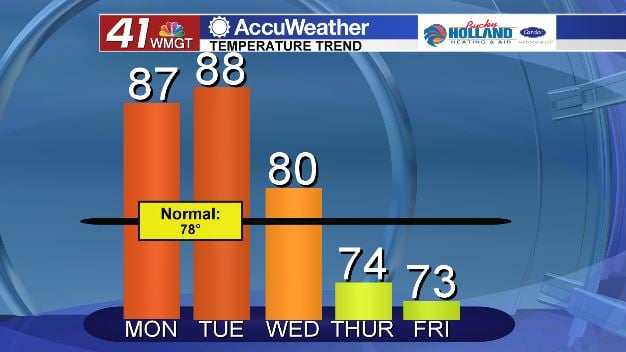 MACON, Georgia. (41NBC/WMGT) – After a cooler and more seasonable weekend, Middle Georgia will have a warmer start to the week.
Temperatures are forecast to rise into the mid-upper 80's Monday and Tuesday thanks to a high pressure system over the Carolinas.
A southerly wind will pump in more warm and moist air over Middle Georgia which will allow temperatures to trend about 10 degrees above normal.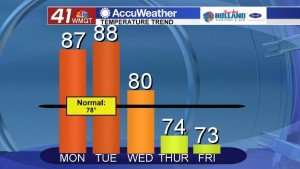 This week, two cold front will push into the southeast.
The first front will move in Tuesday, but Middle Georgia won't feel the cooler air until Wednesday.
The second cold front will arrive heading into the weekend, reinforcing cooler and drier air over the region.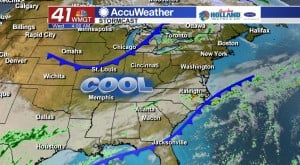 As for rain chances, there will be limited showers and/or storms across the Peach State.
A few spotty showers will be possible Monday in Middle Georgia as moisture creeps in from the south.
When the first front moves through Tuesday, isolated showers may develop. Otherwise, the only other chance for rain will be Saturday with the arrival of the second cold front.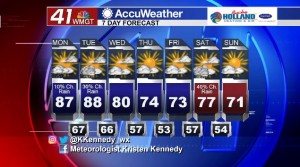 Connect with Meteorologist Kristen Kennedy on Facebook and Twitter for weather updates throughout the day. You can also watch her forecasts Monday through Friday on 41NBC News at Daybreak (5-7 a.m.) and 41Today (11 a.m.).