Warm and dry weather for Middle Georgia this week
MACON, Georgia. (41NBC/WMGT) – It can be hard to get going on a Monday knowing that the weekend bliss is over, but it will be a little easier today with beautiful weather on the way!
Monday morning will be chillier than normal as temperatures dip into the mid-40's under a clear sky. Add in some sunshine, and temperatures will climb close to 80 degrees this afternoon.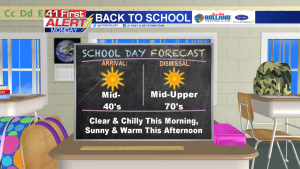 A large ridge of high pressure will build across the southeast early this week, shifting east heading into Wednesday. This system will keep Middle Georgia dry and seeing sunshine.
Since a high pressure system causes air to sink and compress, there will be very few clouds over Middle Georgia and temperatures will increase.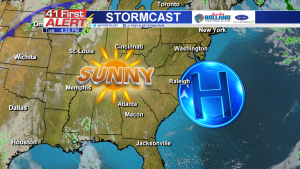 Temperatures will climb into the mid-upper 80's this week. The hottest day will likely be Friday with a high around 88 degrees.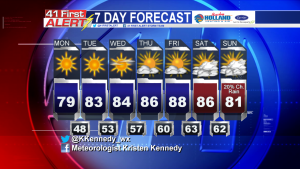 Connect with Meteorologist Kristen Kennedy on Facebook and Twitter for weather updates throughout the day. You can also watch her forecasts Monday through Friday on 41NBC News at Daybreak (5-7 a.m.) and 41Today (11 a.m.).