Unstable pattern creates wet weather for the rest of the work week
MACON, Georgia. (41NBC/WMGT) – A cold front moved through Middle Georgia Tuesday, producing a narrow line of rain that later developed into non-severe storms as it moved southeast of Warner Robins. The front is currently slowing down in motion and will stall out across the Deep South, resulting in an unstable weather pattern for the rest of the work week.
Clouds will be creeping in from the south Wednesday. Temperatures are forecast to rise from the mid-50's in the early morning hours to the mid-70's in the afternoon. Sunshine will be limited.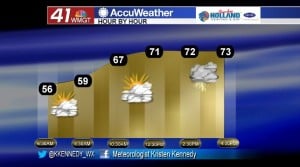 The best chance for rain looks to be in the later afternoon hours, though seeing as yesterday's front arrived earlier than scheduled – today's rain could come as early as 2 p.m.
A wave of energy will pass through the southeast. With a stationary front in place locking moisture over the Deep South, rain and storms will form with the added energy coming in from the northwest.
There is no threat for severe weather Wednesday.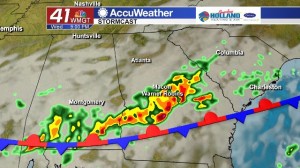 The wet weather is likely to continue Thursday and Friday. By Friday, another cold front will sweep east with rain and storms.
Heading into the weekend, however, the rain will clear out and drier weather will FINALLY return! Temperatures will drop well below normal as colder air moves in.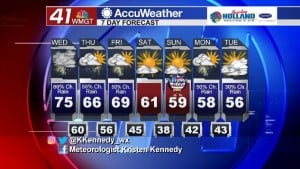 Connect with Meteorologist Kristen Kennedy on Facebook and Twitter for weather updates throughout the day. You can also watch her forecasts Monday through Friday on 41NBC News at Daybreak (5-7 a.m.) and 41Today (11 a.m.).