Tropics are brewing as multiple systems develop
MACON, Georgia. (41NBC/WMGT) – While the first half of the Atlantic Hurricane season (June – August) was less active than predicted, the second half of the season has already produced three tropical waves.
Last week, we were keeping our eye on a tropical wave pushing off the west coast of Africa. At one point, it was given an 80% chance of cyclone formation within 48 hours.
Early Saturday, this wave was upgraded to a tropical storm, given the name Florence.
As of Monday morning, September 3, Tropical Storm Florence had sustained winds of 60 mph and was moving west/northwest at 16 mph.
Tropical Storm Florence is expected to continue tracking west/northwest over the next few days, travelling into the central Atlantic Ocean. Right now, it is too early to tell if this system will impact the United States.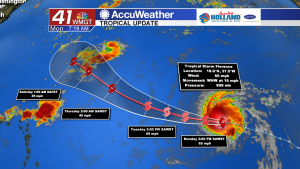 Behind Tropical Storm Florence, another tropical wave is trying to develop off the west coast of Africa.
The National Hurricane Center has given this cluster of rain and storms a 20% chance for tropical cyclone formation in 5 days.
While the chance for formation remains low Monday morning, it could increase in the coming days (as we saw with what is now Tropical Storm Florence).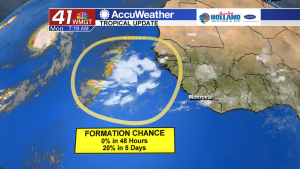 Closer to home, another tropical system is developing.
Just southeast of the peninsula of Florida spins Potential Tropical Cyclone Seven. A potential tropical cyclone is a tropical system that does not meet the requirements of a tropical storm but is forecast to bring tropical storm conditions to land within 48 hours.
This system has an 80% chance of cyclone formation in the next two to five days.
In fact, it is expected to strengthen into a tropical storm as early as Monday night. It will be given the name Gordon.
Tropical Storm Gordon will likely move northwest through the Gulf of Mexico (high pressure over the east coast steers it that way).
Impact to land is expected along the Gulf Coast, anywhere from the panhandle of Florida to Louisiana (where tropical storm watches are already in effect). Threats to these locations include heavy rainfall, flooding and gusty winds.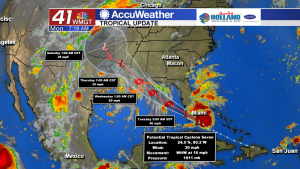 Should Gordon shift its path slightly more northward, Middle Georgia could receive more rainfall and an increase in wind speed. However, right now these tropical systems are not forecast to impact Middle Georgia.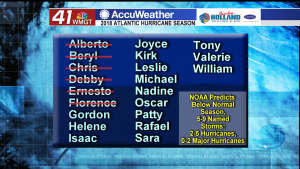 At the end of May, NOAA and the Climate Prediction Center issued its predictions on how active the 2018 Atlantic Hurricane Season would be. The agencies predicted a near or above-normal season with 10-16 named storms.
In August, both agencies updated the 2018 Atlantic Hurricane Season outlook, predicting a below-normal season with an additional 5-9 named storms.