Tropical Storm Michael exits Middle Georgia, nicer weather on the way
MACON, Georgia. (41NBC/WMGT) – Michael arrived in Middle Georgia late Wednesday night around 10:00 p.m. as a Category 1 hurricane packing strong winds and heavy rainfall. The system was downgraded to a tropical storm shortly after midnight Thursday morning.
The National Weather Service in Peachtree City reports that the strongest wind gusts occurred in Crisp County with significant gusts above 50 mph extending from Laurens and Dodge County into Houston and Bibb County.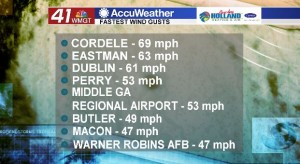 Storm damage reports have come in from all across Middle Georgia, mainly in the form of downed trees blocking roadways, falling onto homes and power lines. Around 2 a.m. an estimated 70,000 people in Middle Georgia were without power.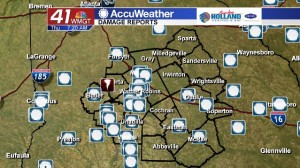 As the sun comes up this morning, it is likely that more damage will be visible across Middle Georgia and more damage reports will come in.
Please do not venture out and keep first responders from doing their job to clean up the disastrous conditions.
Stay away from downed power lines as some may still be active. If you see downed power lines or trees, call local city officials to report the location of the storm damage or send your reports to news@41nbc.com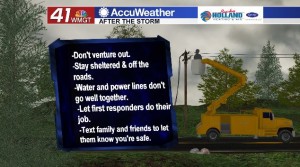 Tropical Storm Michael is no longer in Middle Georgia. The last wrap-around rain bands on the southwestern edge of the storm have shifted into South Carolina.
A cold front is pushing Michael east into the Carolinas.
Winds may still gust up to 30 mph throughout the day as the incoming cold front pushes colder and drier air southeast.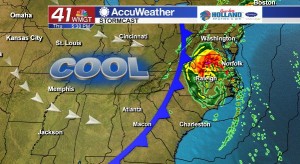 While Middle Georgia has dealt with the messy weather from Michael the last 12-18 hours, we will be rewarded with much nicer weather heading into the weekend.
Michael exits and fall-like weather arrives! Temperatures are expected to drop into the 50's overnight and top out in the upper 70's and low 80's during the afternoon hours.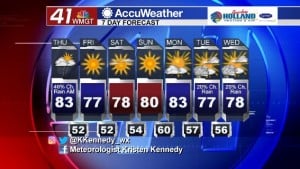 Connect with Meteorologist Kristen Kennedy on Facebook and Twitter for weather updates throughout the day. You can also watch her forecasts Monday through Friday on 41NBC News at Daybreak (5-7 a.m.) and 41Today (11 a.m.).