Tropical storm conditions possible Wednesday-Thursday in Middle Georgia
MACON, Georgia. (41NBC/WMGT) – Early Tuesday morning, Michael remained a Category 1 hurricane with 90 mph sustained winds. The system is still forecast to make landfall as a Category 3 hurricane along the Florida panhandle near Panama City, FL Wednesday afternoon. As it moves inland, Michael is forecast to weaken to tropical storm status as it moves through Middle Georgia Wednesday into Thursday.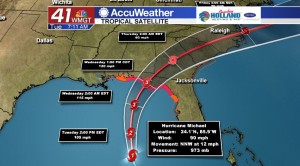 A Tropical Storm Watch has been extended to include some Middle Georgia counties until Friday morning. The counties currently included in the watch are: Johnson, Laurens, Treutlen, Wheeler, Telfair, Dodge, Bleckley, Pulaski, Wilcox and Dooly.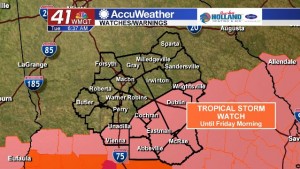 The reason a Tropical Storm Watch has been issued for Middle Georgia is due to the tropical storm conditions expected in our area Wednesday and Thursday.
There is a 70-90% chance that Middle Georgia will see tropical storm force wind gusts (winds at least 39 mph).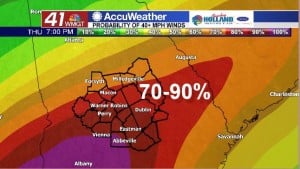 All of Middle Georgia is included in a Flash Flood Watch until 2 p.m. Thursday.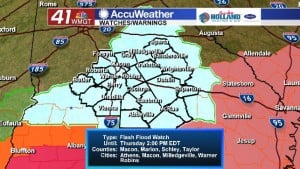 Rainfall totals are expected to range from 3 to 6 inches. Isolated locations may receive up to 8 inches of rain by Friday morning.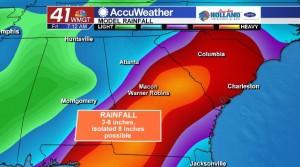 With the threat of flooding, wind damage, trees blown down and power outages, Middle Georgians should prepare safety kits leading up to Thursday. Keep in mind the following items:
One gallon of water, per person for at least three days
Three days worth of non-perishable foods
Flashlights and glow sticks, candles if necessary
First aid kit and weather radio
Extra batteries
The Department of Homeland Security provides more safety tips here.
Michael will move out of Middle Georgia Thursday afternoon. A cold front will clear the area by Friday, giving way to more sunshine and cooler conditions for the weekend.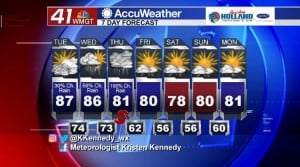 Connect with Meteorologist Kristen Kennedy on Facebook and Twitter for weather updates throughout the day. You can also watch her forecasts Monday through Friday on 41NBC News at Daybreak (5-7 a.m.) and 41Today (11 a.m.).