Michael strengthens to Category 4 hurricane, tropical storm conditions in Middle Georgia today
MACON, Georgia. (41NBC/WMGT) – Hurricane Michael intensified to a Category 4 storm overnight, now packing winds up to 140 mph. As of 7 a.m. Wednesday, the hurricane was located just over 100 miles away from Panama City, FL.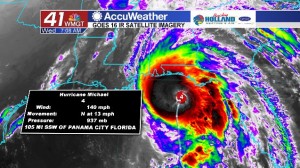 Michael is forecast to make landfall Wednesday afternoon along the Florida panhandle as a Category 4 hurricane.
The forecast cone has narrowed, indicating a stronger confidence in the forecast provided by the National Hurricane Center.
Michael may continue its hurricane status as it moves into southwest Georgia. There is some potential that the system could be a hurricane as it moves into the far southwestern counties of Middle Georgia.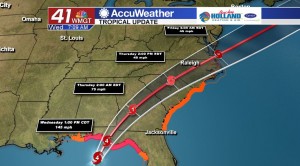 All counties in Middle Georgia are now included in a Tropical Storm Warning that will stay in effect until Friday morning. A Flash Flood Watch for all of Middle Georgia continues until 2 p.m. Thursday.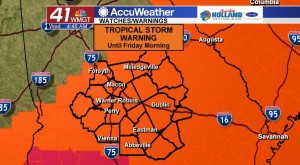 Middle Georgia will experience the effects of Michael beginning Wednesday afternoon.
Though the hurricane will be making landfall in Florida, the outer rain bands will extend into Georgia. With any tropical system, spin-up tornadoes are possible in the outer rain bands moving inland.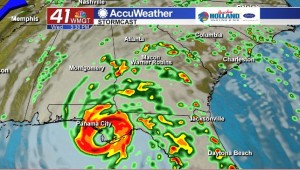 Scattered severe storms will be possible Wednesday afternoon in Middle Georgia.
All modes of severe weather will be possible overnight through Thursday morning.
Rainfall totals are forecast to range from 3-6 inches with isolated amounts up to 8 inches.
Tropical storm force wind gusts from 39-73 mph will also be possible across Middle Georgia, with the higher gusts occurring in southwest Georgia.
Thursday afternoon, Michael will clear out of Middle Georgia as a cold front drags the system east.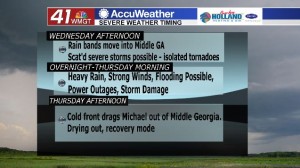 With strong winds and heavy rainfall predicted, storm damage may occur with power outages, too.
You still have time to assemble an emergency supplies kit. Prepare weather radios, food, water, flashlights and batteries that will last at least 72 hours.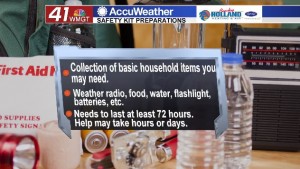 Thursday afternoon a cold front will clear Michael out of Middle Georgia. Cooler air will surge south as fall-like weather returns!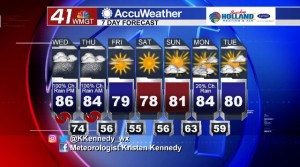 Connect with Meteorologist Kristen Kennedy on Facebook and Twitter for weather updates throughout the day. You can also watch her forecasts Monday through Friday on 41NBC News at Daybreak (5-7 a.m.) and 41Today (11 a.m.).