Tropical Moisture Over the Southeast Creates Spring-like Weather in Middle Georgia
MACON, Georgia (41NBC/WMGT) – A tropical air mass continues to sit over the southeast creating spring-like weather, with showers in the forecast and temperatures trending above average.
Tuesday, a high press system will set up across the northeast. This high will affect the weather in Middle Georgia two ways:
Winds will come from the east, as more tropical air moves across the southeast.
It will help push the low pressure system west and associated cold front south.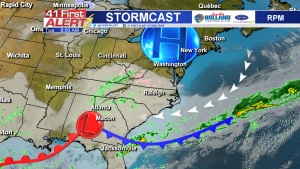 Temperatures Tuesday (Mardi Gras) will be about 10 degrees cooler than Monday. Highs will be in the upper 50's and low 60's. Winds will increase in speed, coming from the northeast at 5-10 mph, gusting up to 15 mph.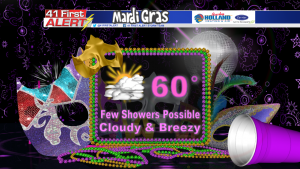 Heading into Wednesday and Thursday, another warm front will push more moisture across Texas and Louisiana. Scattered showers will break out from Louisiana to Tennessee. These rain showers will take a northeastern track, avoiding Middle Georgia.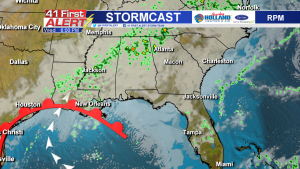 Wednesday and Thursday will be the driest days this week. Isolated showers are possible from Friday through Sunday. Temperatures will overall bounce from the 60's to the 70's and vice versa.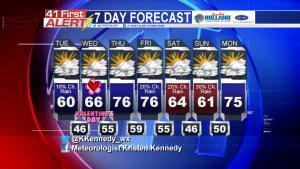 Connect with Meteorologist Kristen Kennedy on Facebook and Twitter for weather updates throughout the day. You can also watch her forecasts Monday through Friday on 41NBC News at Daybreak (5-7 a.m.) and 41Today (11 a.m.).