Tracking the Tropics: Tropical Storm Bret & Potential in the Gulf of Mexico
MACON, Georgia (41NBC/WMGT) – Yesterday, an Air Force Reserve Hurricane Hunter aircraft flew into the Atlantic Ocean to analyze the tropical low near Venezuela. It was determined that the storm system had a closed circulation with 40 mph winds, and therefore it was upgraded to tropical storm status and given the name Bret.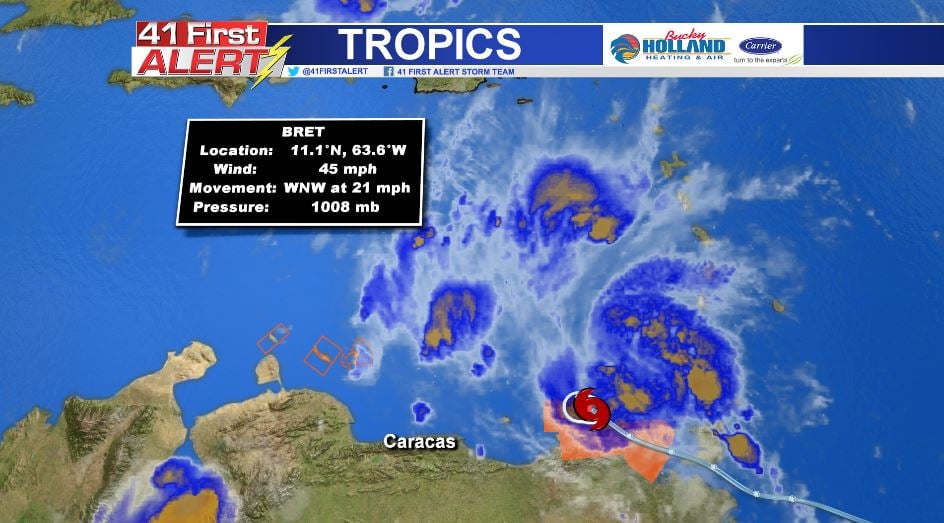 ‪Tropical Storm Bret is located near Trinidad, where it is producing heavy rain and flooding. While it will likely have no impact to United States, the storm system will bring heavy rain to the Caribbean Sea. Tropical Storm Bret is not expected to strengthen. In fact, in 2-3 days, it will likely dissipate over the west-central Caribbean.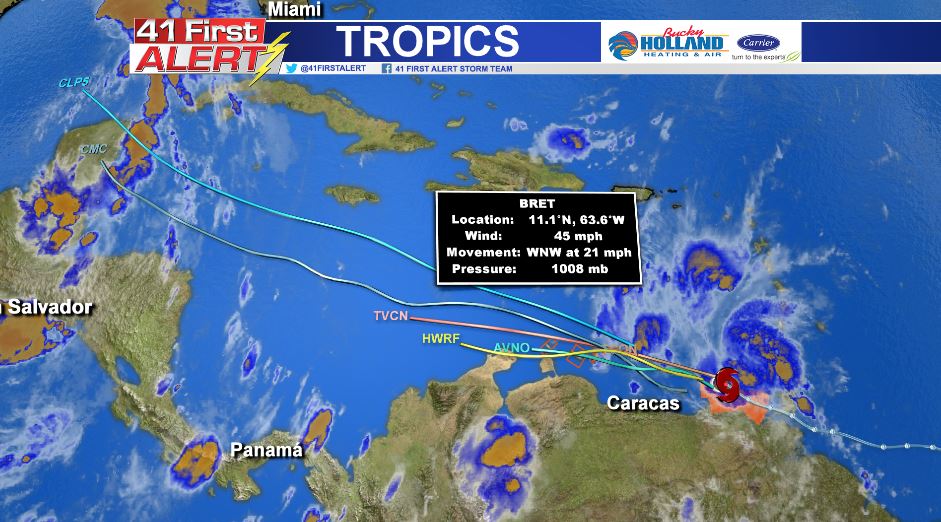 Closer to home, there is potential that another tropical low could strengthen into a tropical storm later today. ‪A broad area of low pressure (currently called "Potential Tropical Cyclone Three") in the Gulf of Mexico is trying to organize, but is struggling to develop that core of rotation and maximized winds. Right now there is no closed circulation with the storm, so therefore it has not been upgraded to tropical storm status. However it is producing tropical storm force winds of 40 mph. For this reason, the National Hurricane Center has gone ahead and issued tropical storm watches/warnings along the Texas & Louisiana coastlines.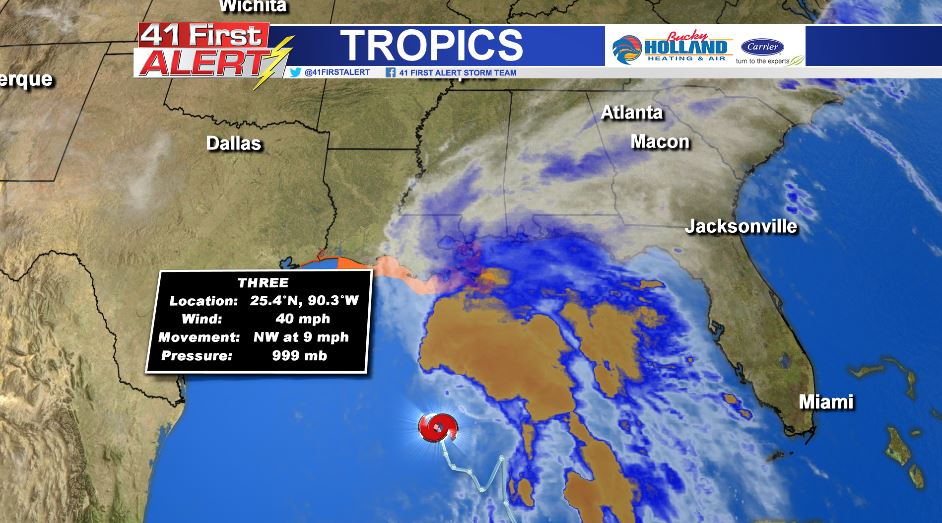 The latest update from the National Hurricane Center notes that the storm system may strengthen just a bit, but if the storm gets an upgrade – it will likely be a subtropical cyclone instead of tropical storm. The difference? Subtropical cyclones have a larger area of wind patterns where the strongest winds are located further from the center of the storm. A tropical storm has the fastest winds located closest to the core of rotation.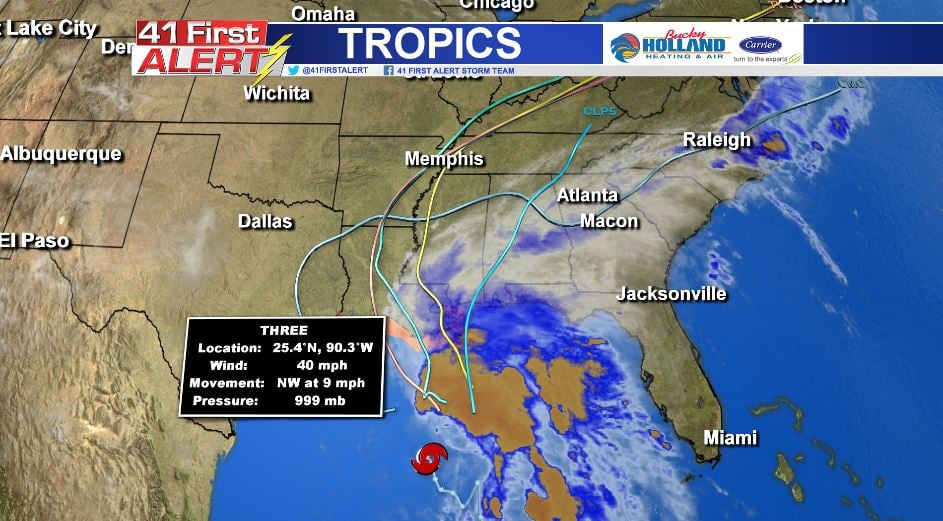 As for where the cyclone will go, models show the system moving northwest and inland. The focus for now is the impacts of the tropical low as it moves onshore. Tropical storm watches and warnings have been issued for coast of Louisiana and eastern Texas. Heavy rain is expected in this area, ranging from about 4-8 inches with isolated amounts of 10 inches or higher. Not only will the rain be a threat, but also the tropical storm force winds (40 mph).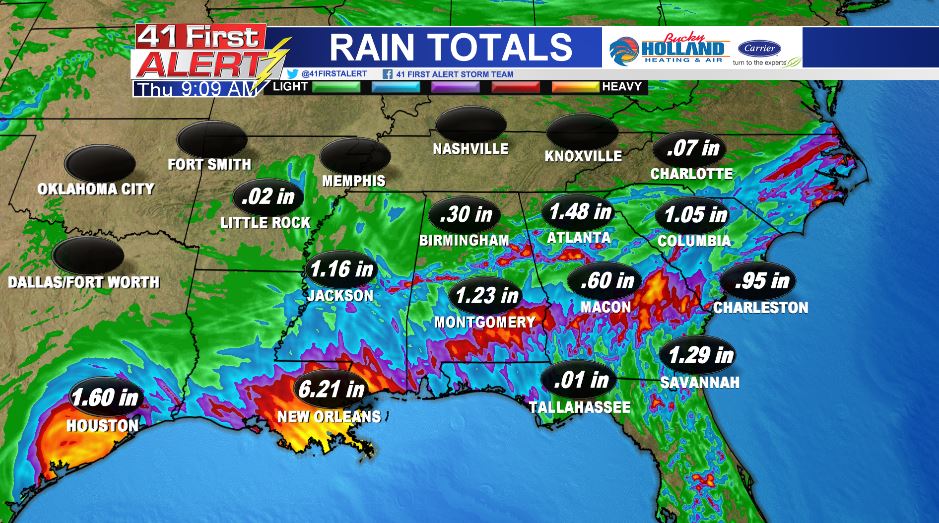 Sheets of rain started moving into Middle Georgia Tuesday morning. Widespread shower activity is expected across the southeast the next few days thanks to the tropical low spinning moisture from the Gulf of Mexico into the southern states. A stationary front will also act as a barrier, locking in the moisture over our area.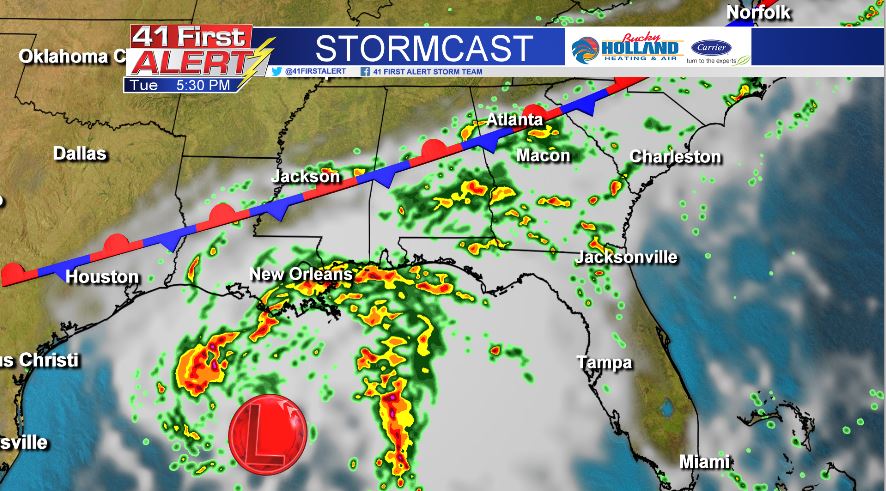 As the stationary front remains, well…stationary, the rain really won't have anywhere to go. For that reason, we will see scattered showers continuing in our area through Thursday.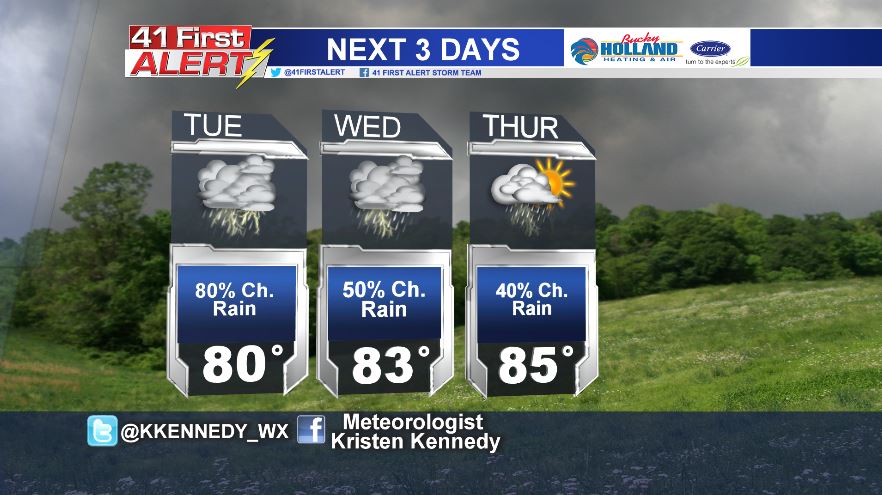 For more updates, follow Meteorologist Kristen Kennedy on Facebook and Twitter.