The sun is back for Middle Georgia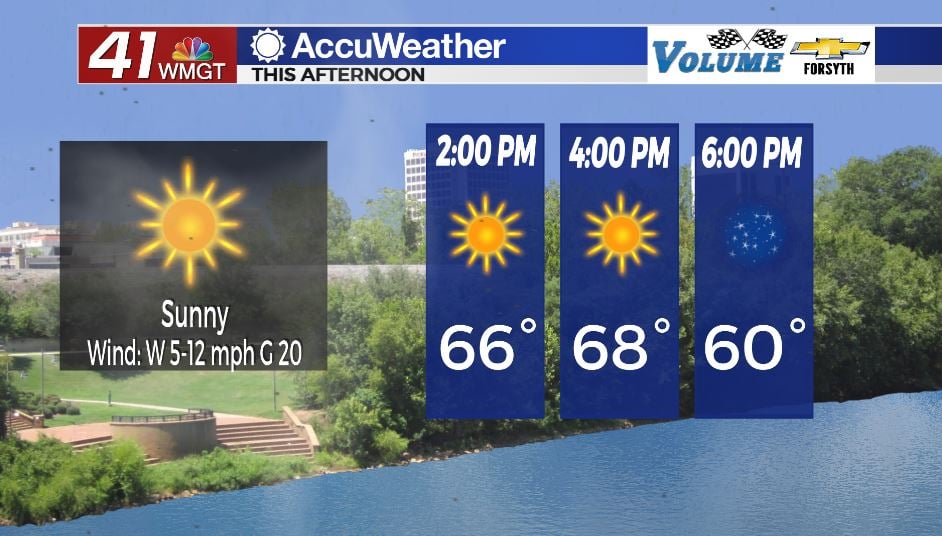 MACON, Georgia (41NBC/WMGT) – Sunshine is back following a day of strong storms and heavy rain across Middle Georgia.
Today

The sun is back in full for Middle Georgia today. While a few cirrus clouds lingered over the region this morning to kick things off, cloud cover will be difficult to come by this afternoon. That being said, a couple of upper level clouds may pass through. Highs will largely be in the upper 60s around the region today with breezes of 5-15 mph blowing in from the west and the west-northwest. Gusts could reach speeds of up to 20 mph.
Tonight skies will stay clear as temperatures drop down into the mid to upper 30s. A couple of spots may remain above 40 degrees. Winds will blow from the west-northwest at 5-10 mph with gusts up to 15 mph. Given the clear conditions Middle Georgian's will have a nice view of the upcoming Full Moon.
Tomorrow

Sunny skies will stick around for our Friday in Middle Georgia. A few clouds may pass through during the afternoon, but overall cloud cover will still be difficult to come by. It will be slightly cooler as high temperatures only reach the upper 50s and lower 60s. There will not be as much wind, however, as it blows in from the northwest at 3-10 mph. Temperatures will see lower peaks because of the cold and dry air being brought in by the northwesterly winds.
The Full Wolf Moon will be visible tomorrow night across Middle Georgia as skies remain clear. Winds will continue to blow from the northwest at about 5 mph. Temperatures will reach their lowest point for the next 7 days as they bottom out in the mid 30s for most of the region.
The Weekend and Beyond

Saturday will be sunny with afternoon temperatures peaking in the mid to upper 60s. Winds will shift to the southwest at about 5 mph. We will likely see some added cloud cover overnight as a weak storm system approaches from the west.
Sunday will be mostly cloudy with scattered showers and a few rumbles of thunder. Highs will be in the low to mid 60s, which luckily for Middle Georgians is not warm enough for any major severe weather concerns. Showers will likely persist Sunday night and the early parts of Monday morning.
Mostly sunny conditions will return Monday and should carry into the middle of next week.
Follow Meteorologist Aaron Lowery on Facebook (Aaron Lowery 41NBC) and Twitter (@ALowWX) for weather updates throughout the day. Also, you can watch his forecasts Monday through Friday on 41NBC News at Daybreak (6-7 a.m.) and 41Today (11 a.m).