Temperatues drop this weekend, drier air moves in next week
MACON, Georgia. (41NBC/WMGT) – The tropical moisture that has been sitting over the Deep South this week will finally be exiting the region in the next seven days. Drier air is expected to move in next week, and temperatures will also be dropping.
The cold front that was stalled out just north of Georgia this week will get some movement southward due to a bump from another front pushing south.
Moisture will still be present in the atmosphere over Middle Georgia this weekend, so the clouds and chance for isolated showers and storms will stick around.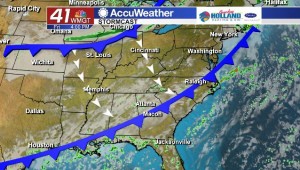 The clouds over the region will lead to slightly cooler temperatures over the next five days.
Temperatures will range from the middle to upper 80's. Normally, afternoon highs should be around 83 degrees this time of year.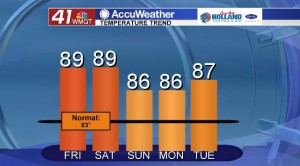 Drier air will actually return to Middle Georgia beginning Monday.
As a result, there will be less rain in the forecast.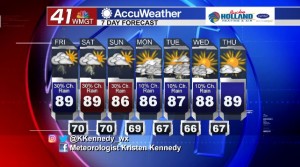 Connect with Meteorologist Kristen Kennedy on Facebook and Twitter for weather updates throughout the day. You can also watch her forecasts Monday through Friday on 41NBC News at Daybreak (5-7 a.m.) and 41Today (11 a.m.).