More sunshine in Middle Georgia results in higher temperatures
MACON, Georgia. (41NBC/WMGT) – Drier air continues to sit across north and middle Georgia resulting in only isolated showers this evening.
Another frontal boundary will move into the state Friday, but it will weaken and eventually stall on its way to Middle Georgia.
Isolated showers will remain in the forecast through the weekend, but most locations will stay dry for the next few days.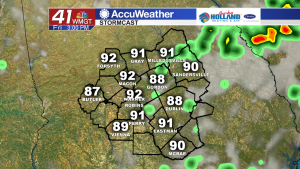 With more sunshine expected across Middle Georgia, temperatures will trend upwards into the low-mid 90's.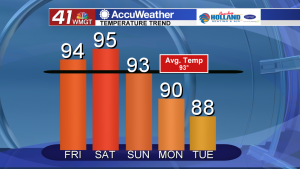 Rain activity will pick up early next week with scattered showers and thunderstorms likely through mid-week.
More clouds and higher rain chances will drop temperatures next week back into the 80's.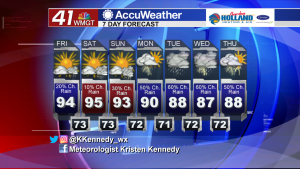 Connect with Meteorologist Kristen Kennedy on Facebook and Twitter for weather updates throughout the day. You can also watch her forecasts Monday through Friday on 41NBC News at Daybreak (5-7 a.m.) and 41Today (11 a.m.).