High pressure shifts over the southeast, temperatures trend upwards
MACON, Georgia (41NBC/WMGT) – A high pressure system will build up across the southeast, resulting in a change in temperatures through the end of the work week.
The high pressure system will set up over Louisiana Wednesday, allowing cooler air to flow south due to a northwest wind. Wind speeds will range from 5-15 mph constantly with gusts up to 20 mph. High temperatures will be about 10-15 degrees colder than normal (average high: 69 degrees).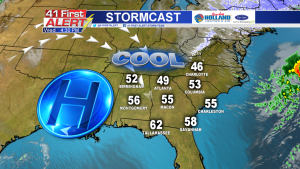 Thursday, the high pressure system moves southeast over Florida. Winds will shift from the northwest to the west/southwest. The change in location of the high will allow warmer air to flow from the Gulf of Mexico back over the southeast.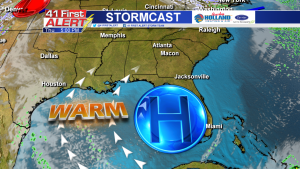 With sunshine in the forecast and a warmer air mass sitting over the southeast, temperatures will trend upwards into the 60's and 70's by the weekend.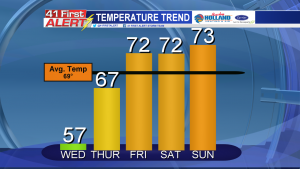 Also this weekend, a low pressure system will develop west of the Mississippi River. A cold front will move from west to east, and increase rain chances across Middle Georgia.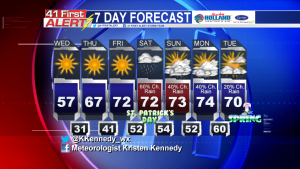 Connect with Meteorologist Kristen Kennedy on Facebook and Twitter for weather updates throughout the day. You can also watch her forecasts Monday through Friday on 41NBC News at Daybreak (5-7 a.m.) and 41Today (11 a.m.).