Summer storms could be strong or severe this week
MACON, Georgia. (41NBC/WMGT) – As tropical moisture continues to flow in from the Gulf of Mexico, the chance for rain will exist each afternoon this week.
Adding sunshine to the already moist atmosphere will create enough instability to allow showers and thunderstorms to develop.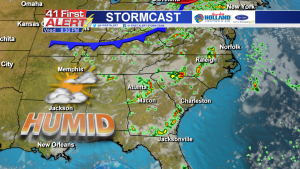 Some of these storms could turn strong or even severe. The main threats will be:
damaging wind gusts (around 60 mph)
small hail (quarter sized)
frequent lightning
heavy rain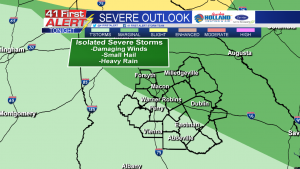 Any rain that occurs in Middle Georgia this week will help cool temperatures from the 90's.
However, it will still be extremely humid before and after the storms. Factoring in the humidity, it will feel like 100-104 degrees each day.
Beat the heat and follow these safety tips:
Avoid strenuous activity, if you can
Wear light-weight and light colored clothing
Stay hydrated, drink water
Wear sunscreen and apply it regularly
Take breaks in the shade or inside
Never leave people or pets inside vehicles
Check on your neighbors, especially the elderly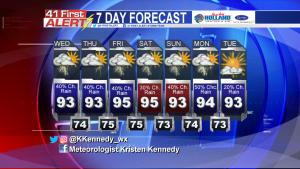 Connect with Meteorologist Kristen Kennedy on Facebook and Twitter for weather updates throughout the day. You can also watch her forecasts Monday through Friday on 41NBC News at Daybreak (5-7 a.m.) and 41Today (11 a.m.).