Steady weather pattern for the rest of the week
MACON, Georgia. (41NBC/WMGT) – Middle Georgia's weather this week will be slow to change due to a pretty steady weather pattern.
A high pressure system is bouncing around the norther Gulf of Mexico, bringing in west/southwesterly winds to the Deep South.
The incoming moisture from the Gulf is creating very humid conditions, making it feel hotter than it actually is and allowing showers and storms to pop-up.
Meanwhile, a cold front is slowly moving towards the southeast.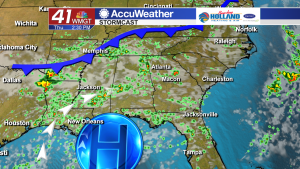 Temperatures will start to drop closer to normal (92 degrees) by the end of the work week, but there will be little changes in rain chances each day.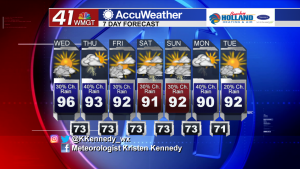 Beat the heat and follow these safety tips:
Avoid strenuous activity, if you can
Wear light-weight and light colored clothing
Stay hydrated, drink water
Wear sunscreen and apply it regularly
Take breaks in the shade or inside
Never leave people or pets inside vehicles
Check on your neighbors, especially the elderly
Connect with Meteorologist Kristen Kennedy on Facebook and Twitter for weather updates throughout the day. You can also watch her forecasts Monday through Friday on 41NBC News at Daybreak (5-7 a.m.) and 41Today (11 a.m.).