Stalled front locks moisture across southeast, rain chances continue
MACON, Georgia. (41NBC/WMGT) – A cold front pushed across the southeast earlier this week, but it has since stalled out across the Deep South.
Drier air remains to our north while very warm, moist air continues to sit over Middle Georgia. The stationary front will keep it from going anywhere,too.
A high pressure system is staying well off to the north but bringing in an easterly wind to Middle Georgia. The easterly wind will allow more moisture from the Atlantic Ocean to flow over the southeast.
As a result, showers and storms are likely to develop every afternoon for the next several days.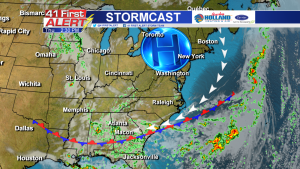 With more clouds, showers and storms developing in the coming days, temperatures will stay below normal (93 degrees).
However, with high humidity, it will still feel more like the upper 90's and low 100's.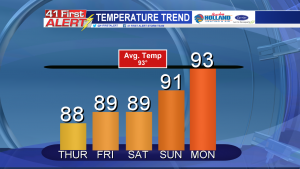 Scattered showers and storms will be likely through the first half of the weekend. Sunday and Monday will be a bit drier with only isolated showers/storms in the forecast.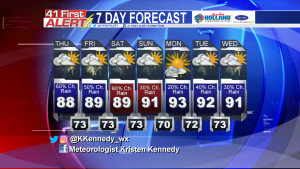 Connect with Meteorologist Kristen Kennedy on Facebook and Twitter for weather updates throughout the day. You can also watch her forecasts Monday through Friday on 41NBC News at Daybreak (5-7 a.m.) and 41Today (11 a.m.).