Sparta to highlight town's hidden talent in first ever art festival
SPARTA, Georgia (41NBC/WMGT) – You can't spell SpARTa without the word 'art'. That's why local artists say they want to change the perception of Sparta, Georgia and do it in a way that's never been done before.
"I've been painting since I was about two or three," said local artist Brittany Morrison.
She says for her, art imitates life.
"I'm really about nature so everything I do has something to do with outside."
So Sparta–a small town known as the Hidden Jewel of Georgia–was the perfect canvas.
"Moving to the country is how I've been able to paint a lot more, because I can see birds and trees and sunsets, so I have lots of inspiration," she added.
But the peaceful countryside isn't the only thing hidden in Sparta.
"We feel like there is undiscovered talent here, people simply express themselves in all of these very creative and artistic ways," said festival organizer Jeanette Waddell
Waddell says she's been painting this picture in her mind for nearly a decade.
"So here we are today with nearly 30 artists, most from Hancock County, who will share their talents with not only Hancock County community but people all over Georgia."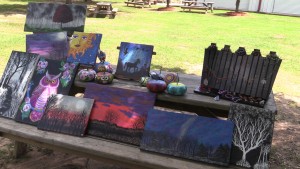 It's been a lot on her palette, but she hopes it'll create economic opportunity in the small town.
"We want our economy to be self sustaining, we want to see local people as entrepreneurs. Georgia is number two or three in the creative economy and we want to share in that," she said.
With a few dabs of a brush stroke, 'There's Art in Sparta' will highlight the town's undiscovered talent.
Organizers say they're expecting a pretty big turn out of at least 1,000 people to come and enjoy the exhibition. They'll have several different art forms displayed.