Severe storms possible in Middle Georgia this weekend
MACON, Georgia. (41NBC/WMGT) – Severe weather will be possible across Middle Georgia this weekend as a cold front stretches into the southeast.
A complex of storms will likely produce the most severe weather Friday across Kentucky and Tennessee. As the system moves southeast, there's a good chance it will start to fizzle out but may still produce some strong/severe storms in North Georgia.
Middle Georgia has no risk of severe weather Friday night. If anything, general, non-threatening thunderstorms may occur.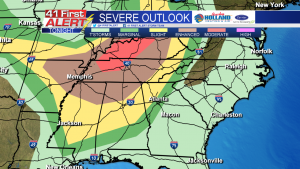 Saturday, however, poses a different situation for Middle Georgia.
The approaching cold front, surges of energy in the atmosphere and additional energy produced from the sun during the daytime could result in scattered severe storms across Middle Georgia.
The timing would mainly be in the afternoon through overnight hours.
Any storms that turn severe will threaten damaging winds (30-60 mph), hail, frequent lightning and heavy rainfall. The tornado threat remains very low.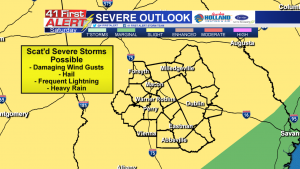 Isolated severe storms will also be possible across Middle Georgia Sunday afternoon.
Make sure you have a way to get severe weather warnings this weekend.
If you haven't done so already, download the FREE 41First Alert Storm Team App in the Google Play and App Store. Save your location and turn on weather alerts to receive notifications about warnings in your area.
Those of you with NOAA weather radios will also need to make sure your radio is turned on and has fresh batteries.
The 41First Alert Storm Team will be closely monitoring the weather this weekend and bringing you updates as storms turn severe.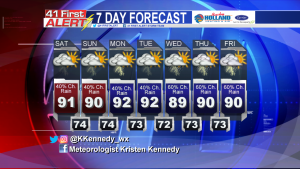 Connect with Meteorologist Kristen Kennedy on Facebook and Twitter for weather updates throughout the day. You can also watch her forecasts Monday through Friday on 41NBC News at Daybreak (5-7 a.m.) and 41Today (11 a.m.).