Severe storms possible in Middle Georgia tonight
MACON, Georgia. (41NBC/WMGT) – Showers and storms are popping up across Middle Georgia this evening, and the threat for severe storms will continue into the nighttime hours.
A storm system in North Georgia will shift southward, entering Middle Georgia around 8-9 p.m.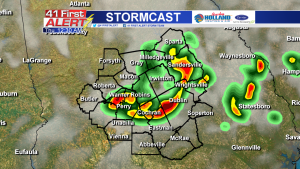 Scattered severe storms will be possible in locations northeast of Warner Robins (yellow on map).
Isolated severe storms will be possible across the rest of Middle Georgia (green on map).
The only difference between severe weather risks is the frequency of severe storms.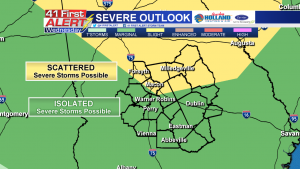 Any storms that turn severe tonight will pose a threat of damaging winds with gusts up to 60 mph. Winds this strong could knock down weak or dead trees.
There will also likely be heavy rainfall that will reduce visibility when driving and frequent could-to-ground lightning.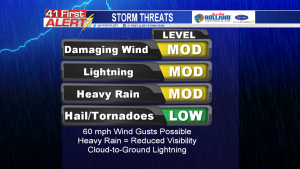 The chance for rain and storms continues every day through the next seven days. Temperatures are forecast to stay in the low-mid 90's while humidity makes it feel more like the triple digits.
Beat the heat and follow these safety tips:
Avoid strenuous activity, if you can
Wear light-weight and light colored clothing
Stay hydrated, drink water
Wear sunscreen and apply it regularly
Take breaks in the shade or inside
Never leave people or pets inside vehicles
Check on your neighbors, especially the elderly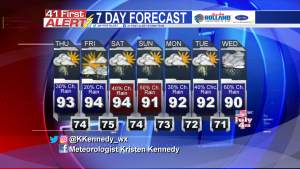 Connect with Meteorologist Kristen Kennedy on Facebook and Twitter for weather updates throughout the day. You can also watch her forecasts Monday through Friday on 41NBC News at Daybreak (5-7 a.m.) and 41Today (11 a.m.).