Severe Storms Possible This Afternoon
MACON, Georgia. (41NBC/WMGT) – A storm system is making its way into North Georgia and will be moving into Middle Georgia this afternoon.
The storms will start to enter Middle Georgia around 1 p.m. and stick around through the early evening.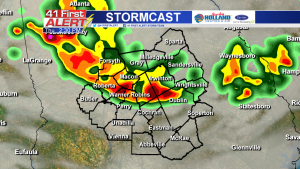 A Severe Thunderstorm Watch has been issued for half of Middle Georgia until 8 p.m. The counties in the watch include: Baldwin, Bibb, Crawford, Hancock, Houston, Jones, Macon, Monroe, Peach, Taylor, Twiggs, Washington and Wilkinson.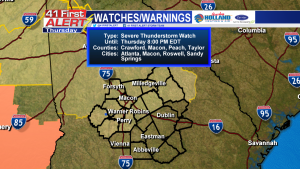 The primary threat with the storms moving south today will be damaging winds with gusts up to 60 mph. Wind this strong could known down weak or dead trees and/or cause power outages.
These storms will also produce frequent cloud-to-ground lightning and very heavy rainfall. Avoid being outdoors or attempting to drive where storms are developing.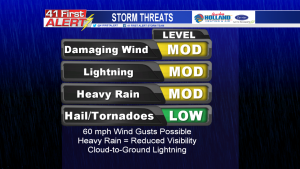 Have your NOAA Weather Radios turned on to receive severe weather warnings. If you don't have a weather radio, you can download the 41First Alert Storm Team app in the Google Play and App Store for FREE!