Rainy and cooler than normal weather persists
MACON, Georgia. (41NBC/WMGT) – The rainy and cooler than normal weather in Middle Georgia will persist for the next few days as a low pressure system continues to stream moisture across the southeast.
A couple different lows near the Gulf Coast will churn up moisture from the Gulf of Mexico and transport it over the Deep South.
At the same time that this is happening, a cold front will move in from the northwest Tuesday.
The cold front and low pressure system will create a path for the moisture to flow, streaming right over Middle Georgia.
Scattered rain showers and some thunderstorms will last throughout the day.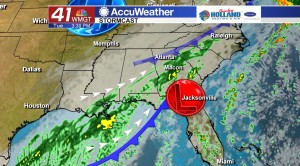 With the clouds and rain over Middle Georgia, temperatures will struggle to move. Morning lows will be mainly in the upper 40's, and afternoon highs should reach the mid-50's with some breaks in rainfall.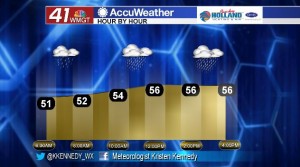 The wet weather will continue again tomorrow but finally clear out Thursday afternoon.
Following the rainfall and temperatures in the 50's, the weekend will feature more sunshine and highs back in the 60's.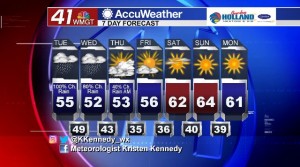 Connect with Meteorologist Kristen Kennedy on Facebook and Twitter for weather updates throughout the day. You can also watch her forecasts Monday through Friday on 41NBC News at Daybreak (5-7 a.m.) and 41Today (11 a.m.).