Rain chances on the rise this weekend in Middle Georgia
MACON, Georgia (41NBC/WMGT) – This weekend won't be a complete washout, but widespread rain is likely on one of the two days.
Friday: High pressure over the southeast keeps the sky clear. Temperatures will climb into the low 60's in Middle Georgia. Winds will come mainly from the southwest early and more so from the west during the afternoon at 5-10 mph.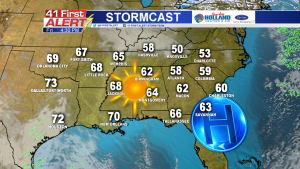 Saturday: The high pressure system moves over the Atlantic Ocean. A low pressure system will start to develop with a warm front stretching across the southeast. Warm, moist air from the Gulf of Mexico will flow north. Cloud cover will increase throughout the day in Middle Georgia. High temperatures will be in the upper 60's and low 70's.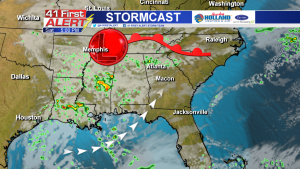 Sunday: The low pressure system will develop further as a cold front forms on the back end. This front will cause all the warm, moist air over the southeast to rise and condense, resulting in widespread showers and thunderstorms. Severe storms are not likely with this system (as of Friday morning), but some may be strong. It will be very windy as the cold front moves through Middle Georgia. Wind gusts could surpass 30 mph.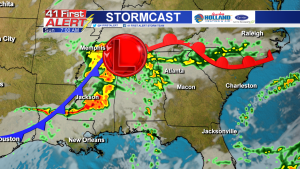 Following the cold front, another large ridge of high pressure will build up across the mid-west and east coast leading to more sunshine and cooler air flowing south.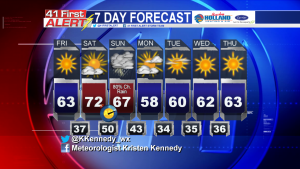 Connect with Meteorologist Kristen Kennedy on Facebook and Twitter for weather updates throughout the day. You can also watch her forecasts Monday through Friday on 41NBC News at Daybreak (5-7 a.m.) and 41Today (11 a.m.).